Venturing Into the Outdoors? Follow these Tips to Prevent Dog Bites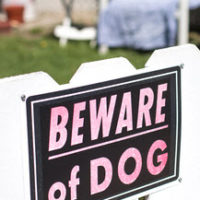 When Florida residents go outside to play, walk or jog, most don't think about the possibility of being bit by a dog. However, dogs sometimes get loose from their homes. Some free-roaming dogs are strays.
Runners are prone to dog bites because a dog's instinct is to go after prey, and prey runs. In most cases, the dog simply wants to play. Being stern and telling it to go home often works. However, some dogs bark, growl and show their teeth. These dogs can be a threat.
If you do encounter these types of dogs while out running, it's a good idea to be prepared. Read on for some useful tips.
Florida Dog Bite Laws
First, it's important to understand dog bite laws in Florida. Under Florida Statutes Section 767.04, dog owners are responsible for any damages caused by their dogs biting another person. This applies even if the dog has never acted in a vicious manner in the past. However, if the victim's negligence led to the bite, then the owner may not be held liable. For example, if the victim trespassed upon the dog owner's property or teased the dog and caused it to bite, the victim could be held responsible for his or her own actions.
Dog Bite Prevention
Want to avoid getting bit by an aggressive neighborhood dog? Here are some tips to follow:
Stand your ground. Stop running and make yourself look big and scary. Get ready to attack if necessary. You may even want to bring pepper spray with you, but make sure you know how to use it or it could affect you more than the dog.

Use a command. Most dogs have some sort of training and will respond to a command such as "Off!," "No!" or "Go home!" The trick is to avoid using a high-pitched voice or scream. Try to bellow like a drill sergeant and don't ask. Make it sound like a command. And if the dog responds, back off slowly. Do not run.

Create a distraction. Some runners carry dog toys or treats with them in case they are bothered by a dog. You can give the toy ot treat to the dog and run off while they are distracted by their gift.

Use an air horn. Air horns are loud enough to make a dog back off. Plus, it alerts others in the area that something is happening. It might even alert the dog's owner.
Get Legal Help for Your Injury Case
Dog bites can happen when you least expect them. Even a family dog or dog you know well can be provoked to bite. While some bites are minor and don't even break the skin, many are severe in nature, leading to lacerations, disfigurement and even death.
If you or loved one has been bitten by a dog, and the dog's owner was negligent, you may be able to file a claim for compensation. Let the personal injury lawyers at Leifer & Ramirez help you with the process. Call 561-660-9421 to schedule a free consultation.
Resource:
nbcmiami.com/news/local/Dog-Bite-Prevention-For-Runners-469922093.html