Florida Man Accused of Killing Pedestrian Arrested for DUI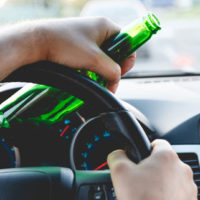 A man accused of spraying himself with cologne then walking away from a four car pile up that killed a Hallandale Beach pedestrian last May has been arrested for charges of DUI. According to authorities, the 69-year-old man was arrested and charged with DUI causing personal injury, DUI causing property damage, and DUI manslaughter. The May 10 crash resulted in the death of a woman.
The man was reportedly leaving the Royal Palm Trailer Park parking lot when he failed to stop and struck four cars before striking victim who was standing on the concrete median. The victim suffered extensive trauma and was taken to the hospital where she later passed away.
Motor Vehicle Accidents and DUI
Any person that is charged with a DUI in Florida will face criminal charges. If the impaired driver also causes an accident that results in damage to property, injuries, or death, civil claims may also be brought against the driver. While it's not always easy to prove that the driver was intoxicated, if a prosecutor proves that the party was intoxicated, the civil claim becomes much easier to win.
Third-Party DUI Injury Liability
In Florida, the injured party is also able to pursue damages under a law that is referred to as the dram shop law. This allows civil claims to be filed against the owners of any establishment who served alcohol to the driver that was intoxicated knowing that the driver was intoxicated or had a history of alcohol abuse.
Many establishments carry liability insurance to protect them against dram shop laws. Some restaurants and bars even opt out of giving out items like t-shirts or matchbooks in fear that if a driver is involved in an accident and found in possession of these items, the establishment could be found guilty too.
Alternatives for Recovery of Damages
Sometimes the person charged with a DUI is driving without insurance and has no visible assets. If this happens there are still options for recovering damages such as lost wages and medical expenses. The first option is the dram shop law mentioned above, and the second is to collect damages through uninsured motorist insurance.
Uninsured driver's insurance is coverage that you can buy as an addition to your own insurance policy. It will cover injuries that result from an accident where the at-fault party has no insurance or is underinsured.
An Experienced Car Accident Attorney Can Help
A Florida attorney experienced in personal injuries caused by drunk driving can determine what the best course of action for your situation will be. Our attorneys at Leifer & Ramirez have years of experience ensuring our clients' rights are protected and they get the compensation that they are entitled to. Contact us at one of our Florida locations today.
Resources:
leg.state.fl.us/STATUTES/index.cfm?App_mode=Display_Statute&URL=0600-0699/0627/Sections/0627.727.html
nbcmiami.com/news/local/Man-Arrested-on-DUI-Charges-in-Hallandale-Beach-Crash-That-Killed-Pedestrian-492088531.html