The Right Things to Know About Wrongful Death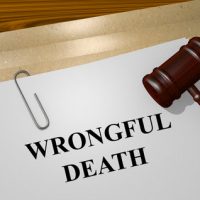 According to the South Florida Sun Sentinel, a judge has determined that a Florida father is not liable in a wrongful death lawsuit for two Tequesta teens' disappearance at sea. This case pitted two respective sets of parents against each other after their 14-year-old sons vanished during a fishing trip back in July of 2015. The boys were last seen when they left that summer morning aboard an 18-foot, single-engine 1978 SeaCraft that was registered to the ex-wife of the man who has now been found not liable. The boys encountered a severe thunderstorm shortly after navigating off shore in the Atlantic and never returned. The lawsuit brought against the father and his former wife alleged that there were multiple negligent actions, including him undertaking a failed search for the boys. The judge ultimately disagreed with the contentions made against the father.
Eligibility for Wrongful Death in Florida
Losing a loved one is always difficult and this is especially true when your loved one's untimely death is due to the actions of another person. In this situation, it can be tough to turn to focusing on your legal options, especially when you know no amount of money can bring your loved one back. While this train of thought is totally understandable, it is important to recognize that obtaining compensation from the parties responsible for the loss of your loved one can help ease some of the financial burden left by his or her absence.
In the Sunshine State, a wrongful death happens when another person's breach of contract, negligence, default or misconduct leads to the death of someone else. The law stipulates that certain specified parties can bring a wrongful death lawsuit (via the personal representative of the deceased person's estate) as the legally designated survivors against an applicable party when one of these tragic circumstances occurs. The classes of people who may bring such a claim are designated family members that include:
The spouse, children, and parents of the person who passed away, and
Any blood relative or adoptive sibling who depended on the person who died, at least partially, for support or services.
While survivors should take time to grieve, it should not be overlooked that there are time limits imposed by law for pursuing legal options for these tragedies. In general, a wrongful death claim must be filed within two years of the date of death.
Have You Lost a Loved One in a Wrongful Way?
If you are a surviving family member of someone who has died due to what you believe was the wrongful action of someone else, you should reach out to an experienced wrongful death attorney as soon as possible. As the  South Florida wrongful death attorneys at Leifer & Ramirez, we have years of experience working with accident victims and their families in order to get them the compensation they deserve. If you place your trust in us, you will have an experienced professional by your side from the beginning to the end to guide you and help you. Contact us today to begin with a free consultation.
Resource:
sun-sentinel.com/local/palm-beach/fl-ne-tequesta-teens-20200911-xjboniyitreqncjcg77l4dhdtq-story.html