Avoiding Motorcycle Accidents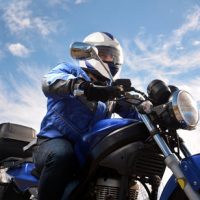 Local 10 News has reported that Georgia star safety Richard LeCounte was injured in a motorcycle accident shortly after the Bulldogs returned to Athens from their victory at Kentucky. The player's mother has asserted that her son was struck by two cars while driving his motorcycle on a recent Saturday night. He reportedly had to be hospitalized at a local trauma center after the collision. Fortunately, his injuries are not life-threatening and a full recovery is expected.
Understanding How Serious a Motorcycle Accident Can Be 
Riding motorcycles is a beloved activity for many Americans. But unfortunately, it can also be one that holds a significant potential for danger. Motorcyclists are killed or injured in serious collisions more often than anyone who makes a habit of riding one would like to contemplate. Just under 5,000 motorcycle riders lost their lives in accidents in 2018 alone. In addition, motorcyclists are 29 times more likely to suffer fatal injuries than car passengers. And significantly, motorcycle riders are significantly overrepresented in traffic-related deaths. Despite representing just 3 percent of registered vehicles, motorcycle riders make up 14 percent of all traffic-related deaths.
Avoiding These Collisions
While every accident can't be prevented, there are actions you can undertake to help you maximize the chances of avoiding an accident. Ensure that you:
Service your motorcycle. Ensure that you keep up with your vehicle maintenance and that your motorcycle is serviced for any patent defects every so often.
Slow down. Motorcyclists sometimes hit the road at full throttle with no regard for the posted speed limit. When riding, you should enjoy yourself but you should also adjust your speed to make sure you are consistent with driving conditions and others around you.
Don't engage in distracted driving. Avoid changing the radio, talking on the phone or other distracting behaviors.
Follow road rules. Stop at red lights and stop signs, adhere to posted speed limits, slow down at crosswalks and otherwise follow the rules of the road.
Pay attention to road conditions. When riding on a motorcycle, you should be especially careful on sharp curves, turns and steep inclines and stay aware of the dangers caused by soft shoulders and potholes.
Never drive impaired. Neither drugs nor alcohol should be used before you decide to take a ride. You should even be careful with new prescription drugs until you understand how they affect you.
Have You or a Loved One Been Injured in a Motorcycle Accident?
If you or a loved one was injured in a motorcycle accident, you may be entitled to compensation for your harm. However, you should not wait to turn to an experienced legal professional as you want to give yourself the best chances of success. As the  South Florida auto accident attorneys at Leifer & Ramirez, we are committed to holding negligent drivers accountable for the harm that they cause. We have been helping motorcycle accident victims hold the parties responsible for their injuries accountable for years and you can depend on us to dedicate ourselves to your success. Contact us today to begin with a free consultation.
Resource:
local10.com/sports/2020/11/01/georgia-star-safety-lecounte-injured-in-motorcycle-wreck/