How A Wrongful Death Lawsuit Can Seek Justice When Criminal Prosecution Is No Longer An Option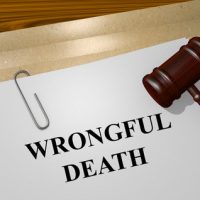 A wrongful death lawsuit provides a legal mechanism for the family of a deceased person to seek financial compensation from the person (or persons) whose wrongful acts caused their loved one's death. In this context, a wrongful act may be simply negligent–such as failing to obey the traffic laws and causing an accident–or even criminal. Since a wrongful death lawsuit is civil in nature, it does not conflict with any potential criminal prosecution of the same wrongdoers.
Indeed, in some cases a wrongful death lawsuit may be the only way of obtaining some measure of justice. For example, there are cases where prosecutors were unable to prove a defendant's guilt beyond a reasonable doubt at trial. Or perhaps it was impossible to prosecute the wrongdoer in the first place because they themselves are deceased. While you cannot criminally prosecute the dead, you can still file a wrongful death lawsuit against their estate.
Family of Slain Travel Blogger Sues Estate of Alleged Killer and His Parents
A recent high-profile example of this here in Florida is a wrongful death lawsuit filed by the mother of Gabby Petito against her also-deceased alleged killer. Petito was originally from New York. While attending high school she met Brian Laundrie. The two started dating in 2019 and she moved in with Laundrie and her parents at their home in Florida. The couple announced their engagement in July 2020.
Petito later gained fame as a travel blogger, documenting her cross-country trips with Laundrie on YouTube and Instagram. In August 2021, Petito and Laundrie were seen fighting in Utah. A caller contacted 911 and reported that Laundrie had hit Petito. Local law enforcement subsequently found the van that Petito and Launder were traveling in. After talking with both, the police concluded this was not a case of domestic violence but nevertheless separated the couple.
A few weeks later, Laundrie returned to his parents home alone. Meanwhile, Petito's parents were concerned when they didn't hear from her for over a month. Petito's mother filed a missing persons report. Police in Florida opened a criminal investigation and searched Laundrie's home and car. On September 19, 2021, Petito's remains were found in Wyoming. A medical examiner determined the cause of death was homicide. Police in Florida discovered Laundrie's remains a month later. He committed suicide by gunshot.
As previously noted, Petito's estate, acting on behalf of her mother, filed a wrongful death lawsuit against Laundrie's estate, alleging that he killed Petito. In March, the estate filed a separate civil lawsuit against Laundrie's parents, alleging they had attempted to help their son flee after he admitted killing Petito to them. According to ABC News, that case is scheduled for trial in 2023.
Speak with a Fort Lauderdale Wrongful Death Attorney Today
No lawsuit will ever bring back a deceased family member. But litigation can help a family achieve some measure of justice. If you need to speak with an experienced Boca Raton wrongful death lawyer, Contact Leifer & Ramirez today to schedule a consultation.
Source:
abcnews.go.com/US/mother-gabby-petito-files-wrongful-death-lawsuit-estate/story?id=84554735