How Can You Recover Damages if Your Loved One Was Killed in an Accident?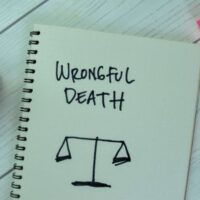 Losing a loved one is never easy, and it can be especially difficult when they are taken from us suddenly due to someone else's negligence or wrongdoings. In such cases, it can be helpful to know that there are legal actions you can take to help you recover damages for your loss.
If you have recently lost a loved one and wonder how you can recover damages, contact Leifer & Ramirez. Our Deerfield Beach wrongful death lawyers can help surviving family members understand their options for compensation and evaluate their recoverable damages after a loved one's death.
Common Causes of Wrongful Death Cases
A fatal accident recently occurred in Deerfield Beach. According to Local10, a pedestrian was killed after being struck by a train near East Hillsboro Boulevard and North Dixie Highway. The person was pronounced dead at the scene.
Common causes of wrongful death cases include:
Car accidents
Pedestrian accidents
Motorcycle accidents
Truck accidents
Construction accidents
If a loved one has died due to any of these or another type of wrongful death accident, it is important to speak with an attorney who can help you understand how you can recover damages.
What Is Wrongful Death Under Florida Law?
Wrongful death is a legal claim that is brought when a person's death is caused by someone else's wrongful act, negligence, breach of contract, or default. Essentially, it means that the person who died would have had a viable personal injury claim if they had survived. Wrongful death is a civil case, meaning that it is brought by the plaintiff for the purpose of holding the wrongdoer accountable and to recover damages for the surviving family members' losses.
Who Can File a Wrongful Death Claim in Florida?
In Florida, only the personal representative of the decedent's estate has a right to file a wrongful death claim pursuant to Florida Statutes § 768.20. The personal representative can be either chosen by the deceased person during their lifetime (in a will) or appointed by the court after the decedent's death.
Recoverable Damages in Wrongful Death Cases
In Florida, the recoverable damages in a wrongful death case may include compensation for medical and funeral expenses, lost income and support, loss of companionship, and emotional pain and suffering. The amount of compensation will depend on the circumstances of the case and the evidence presented to the court.
While wrongful death cases are filed by the personal representative, the recoverable damages are awarded to the deceased person's spouse, children, and other surviving family members. An experienced wrongful death attorney can help you determine the types of damages that may be available in your case.
Have You Lost Someone You Love? Contact Leifer & Ramirez
If you have lost a loved one due to someone else's negligence or wrongdoing, it can be a devastating experience. However, you may have a right to recover damages if your loved one's death meets the definition of "wrongful death" under Florida law. Get legal guidance from our lawyers at Leifer & Ramirez to discuss your particular case during a free consultation. Call 561-660-9421.
Sources:
leg.state.fl.us/statutes/index.cfm?App_mode=Display_Statute&URL=0700-0799/0768/Sections/0768.20.html
local10.com/news/local/2023/05/21/pedestrian-killed-after-being-hit-by-train-in-deerfield-beach/