Signs of Potential Elder Abuse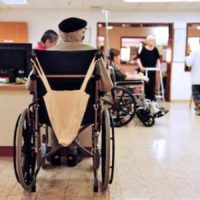 We have a large population of older people here in the Sunshine State and a continuing issue for both older people and their loved ones is choosing where they can spend their golden years. Many older people eventually spend time in long-term care facilities because of need, convenience, or a combination of the two. The goal is always to keep your loved one safe and healthy when entrusting a long-term care facility with providing care for a parent or another elderly relative. Unfortunately, the facilities we entrust don't always provide the quality of care that they have committed to and when this happens, it can lead to tragic results that significantly impact those we love and care for. According to the American Psychological Association, an estimated 4 million elderly Americans are victims of physical, psychological, and other forms of abuse and neglect. Because of this, it is important to understand how to recognize the signs of nursing home and elder abuse.
What is Elder Abuse?

Every act that results in an older person being injured is not considered to be abuse. According to the Centers for Disease Control, the term "elder abuse" includes any kind of intentional act, or failure to act, that is undertaken  by a caregiver or another person in a relationship involving an expectation of trust that causes or creates a risk of harm to an older adult.
What Are Signs of Potential Elder Abuse?

Elder abuse can encompass a vast range of behaviors that can be traumatic to the victim in different ways. One of the best ways to help prevent elder abuse is to have ongoing contact with your elderly loved ones, visit them on a regular basis at varied times, and keep a lookout for any signs that might suggest he or she is being abused. These signs can include:
Unexplained or poorly explained physical injuries
Signs of neglect like rashes, bed sores, and dehydration
Any kind of refusal to allow family members or friends access to the older person
Sudden changes in behavior or personality, especially toward a particular person
Evidence of sexual abuse such as unexplained STDs, lacerations and brushing on private parts, and underwear that is unexplainably ripped
Importantly, understand that elder abuse often isn't obvious and can even seem attributable to known health conditions. Additionally, you can't depend on your loved one to disclose this kind of abuse to you as he or she may hide it for reasons that can range from fear of retaliation to feeling as though he or she has no where else to go. Always remain an advocate for the older person you love.
Turn to Us For Help.

If you are unsure as to whether or not you have a case for an elder abuse lawsuit, you should turn to a legal team that is experienced in dealing with a wide variety of personal injury claims. As the South Florida nursing home abuse attorneys at Leifer & Ramirez, we have helped many people figure out how to proceed after they realized that a loved one or even themselves have been the victim of elder abuse. We take pride in our desire to always obtain full and fair compensation for our clients. Contact us today if you believe someone has abused an elder you know and love.
Resource:
apa.org/pi/aging/resources/guides/elder-abuse.pdf
https://www.leiferlaw.com/florida-nursing-homes-still-dont-have-required-generators/