Premises Liability In Florida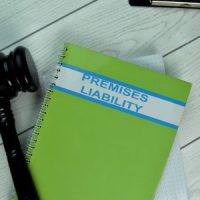 When we go somewhere, such as a restaurant, grocery store, gas station, hotel, school, park, or even someone else's house, we expect a certain degree of safety. However, accidents can happen. Sometimes injuries occur due to the property owner's negligence. You may get bitten by a dog. You may slip and fall on spilled milk at the grocery store. You may get assaulted at a bar. Maybe a ride went off course at an amusement park. Perhaps you almost drowned at the local pool.
There are many ways in which you can get injured on someone else's property. The good news is that there are premises liability laws in Florida that can protect you. If you have been injured due to someone else's negligence, and the claim meets all the requirements, you can file a claim for compensation. You can receive compensation for medical expenses, lost wages, loss of future earning capacity, disability, disfigurement, and pain and suffering, as well as funeral and burial expenses if the accident led to wrongful death.
Common Premises Liability Accidents 
Slips and falls are the most common type of premises liability accidents. Other common accidents include: 
Dog bites
Swimming pool accidents
Falls down stairways
Deck and balcony collapses
Ceiling collapses
Construction site accidents
Parking lot accidents
Amusement park accidents
Elevator and escalator accidents
Fires
Floods
Assaults
Rape 
What the Law Says
The state has laws regarding slip and fall cases. Under Florida Statutes Section 768.0755, if a person slips and falls on a foreign substance at a business establishment, the injured person must prove that the business had constructive knowledge of the dangerous condition and should have fixed it. Constructive knowledge may be proven by one of the following:
The dangerous condition existed for such a long time that the business should have known about the condition; or
The condition occurred with such regularity that it was foreseeable.
Property owners, homeowners, property managers, caretakers, and companies in charge of maintaining the property can all be sued for negligence in a premises liability case.
Proving Premises Liability
 To file a claim, you will need to prove the following:
You were invited or otherwise lawfully allowed to be on the property.
The owner failed to keep the property safe.
Known hazards on the property caused an accident.
The property owner's negligence caused you to suffer injuries and other damages.
Contact Us Today
Properties are supposed to be safe for visitors and others but sometimes there are unsafe conditions that can cause injuries. In these situations, the property owner can be held liable for injuries and any other damages.
A Boca Raton premises liability lawyer from Leifer & Ramirez can help you with your case, whether you have been injured on private or commercial property. We'll gather the evidence needed to prove your case. Schedule a free consultation with our office by calling 561-660-9421 or filling out the online form.
Source:
flsenate.gov/Laws/Statutes/2012/768.0755