[Infographic] Wrongful Death Facts that Will Change Your Life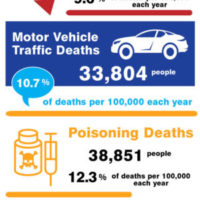 Accidents happen every day. From car accidents to slip and fall accidents and premises liability accidents to other freak, unintentional accidents, the results can be deadly and even fatal. But how many deaths that take place every year are due to wrongful death accidents?
Wrongful death means a death occurred due to the negligent actions or wrongful actions of a third party. And it's shocking to read about how many deaths and accidents that occur each year are due to the wrongful actions of another.
Here are some surprising statistics:
41 percent of deaths each year are unintentional, which totals to approximately 130,500 people
9.6 percent of deaths resulting from a slip and fall accident—the majority of this statistic relates to the elderly who incur fatal injuries from a slip and fall accident
10 percent of deaths each year are from car accidents
12 percent of deaths that occur each year are due to poisoning, such as consuming unsafe foods and even medication errors
In addition, the following number of deaths occurs each year due to:
Unsafe premises – 20,000 deaths per year
Medical malpractice – 98,000 deaths per year
Workplace accidents and fatalities – 6,000 deaths per year
If you recently lost someone you love due to an accident that resulted in wrongful death, then you have a case. Even as a surviving family member, you have rights and can seek a settlement. You can see a settlement for lost wages, lost earning potential, pain and suffering, and even loss of companionship.
The Leifer & Ramirez legal team are experienced in representing clients with wrongful death cases. For more information on how Leifer & Ramirez can help you in your wrongful death case, call us today for a free consultation at 561-660-9421.
Related Posts: