Staying Safe Around Space Heaters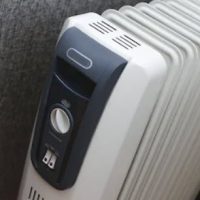 As temperatures lower and weather gets chillier, many residents turn to portable heaters as a source of heat – ironically enough, even here in the Sunshine State. Space heaters can actually be an ideal alternative to turning on the central heating system, especially because they can be inexpensive to purchase, cost-effective to run, and comparatively environmentally friendly. However, these perks don't mean that space heaters come without risk.
What Can Happen When Space Heaters Defect?
The Palm Beach Post recently reported that fire authorities from another state posted an alert online that included a personal experience in hopes of keeping people safe around space heaters this season. Firefighters from that Oregon county warned that plugging a space heater into a power strip can have catastrophic results and included a picture of a charred power strip from one of the department's own fire stations to demonstrate the potential consequences. The firefighters echoed what most manufacturers recommend – that space heaters should be plugged directly into wall outlets.
The above example illustrates the fact that when space heaters defect, the problem usually manifests in the form of erroneous temperature control. Space heaters can overheat, which in turn can cause the unit itself as well as surrounding items to melt or even burst into flames.
How Dangerous Can Space Heaters Be?
A report published by the Electrical Safety Foundation International (ESFi) indicates that more than 65,000 home fires are attributed to heating equipment each year. This equates to heating equipment being the second leading cause of home fires in this country.
What Prevention Methods Should Be Used When Operating a Space Heater?
Only attempt to use a space heater on a surface that is a level
Do not allow young children to play alone unsupervised around the unit
Place the heater outside of obvious pathways such as hallways
Be aware of flammable hazards around your home such as furniture and bedding and put distance between your heater and those objects
Read the owner's manual and undertake any other safety measures recommended for your particular unit
Allow Us to Step in.
Many people uncover that the space heater they'd planned to depend on is defective and unfortunately, many of these defects are discovered in the scenario of incurring an injury. If you or someone you love has suffered an injury because of a defective space heater, you shouldn't don't have to face the heat alone in figuring out your next steps. Victims of the implications of defective products may be entitled to financial restitution for costs such as past and future medical bills, loss of income, destruction of belongings and property, and even compensation for pain and suffering. As the South Florida defective product attorneys of Leifer & Ramirez, we sympathize with what you have experienced and we understand the devastating impact that this kind of unexpected tragedy can have on you and your family. We offer our knowledge and experience and to support your pursuit of holding the responsible parties accountable during this difficult time. Contact us today to discuss your rights and legal options.
Resource:
palmbeachpost.com/news/20191112/never-plug-space-heater-into-power-strip-firefighters-warn
https://www.leiferlaw.com/understanding-common-airbag-injuries/