Pregnant Women and Car Accidents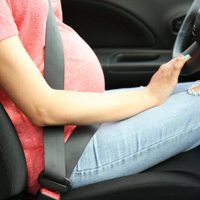 Most parents who have little ones automatically put their beloved children in age-appropriate car or booster seats or otherwise make sure they are buckled in appropriately. However, women who are expecting have a different challenge – keeping the child they are carrying safe while on the road. In some tragic circumstances, the mother even gives up her life to protect her baby's in a collision.
According to the South Florida Sun Sentinel, a pregnant woman and her toddler were struck by a vehicle on a roadway in West Palm Beach on a recent weekday afternoon. The 34-year-old was reportedly standing behind a minivan with her little girl when they were both hit by a vehicle that fled from the scene of the collision. Sadly, the woman was pronounced dead at a local hospital after the accident. However, the silver lining to this tragedy is that her unborn baby was delivered by C-section a short time later. Both the newborn and the toddler are still hospitalized in critical condition. Luckily, the previously-unknown driver was identified and arrested afterward.
The Risks of the Road
Car accidents are intimidating on their own, but when you are pregnant and get in a car crash, every dreadful feeling is heightened. After all, even when not serious, experiencing a car accident while pregnant can change the outcome of the pregnancy. Astoundingly, about 3,000 pregnancies are lost every year from car crashes. So as scary as it is if you find yourself in a car accident while you are pregnant, you aren't alone.
Staying Safe on the Road – And What to Do if You Are Involved in a Car Accident During Your Pregnancy
The majority of pregnant women have no realistic alternative to regularly driving themselves from one destination to another. In addition, for most women there is no reason to stop driving while pregnant as driving itself is not necessarily any more dangerous on the part of the pregnant woman than it would normally be for anyone else. However, while on the road, pregnant women should undertake safety measures including to:
Always wear a seatbelt
Position the steering wheel to avoid belly contact
Never disable your airbags
Avoid engaging in distracted driving
Try not to drive when the weather is unfavorable
How We Can Assist You After Your Accident
Any kind of car accident can unfortunately cause unique complications for an expecting mother. Due to the complexity of accident cases involving pregnancy, hiring an experienced personal injury attorney to investigate who is responsible and to determine exactly how liability should be pursued is a wise decision. As the  South Florida car accident attorneys at Leifer & Ramirez, we understand the stress and trauma that often comes along with physical injuries in these kinds of scenarios and we will work hard to ensure that you are fully compensated for the special circumstances surrounding your personal injury case. You can depend on us to help you get the financial recovery you need and deserve at this difficult time. Contact us today to get started on your personal injury case with a free consultation.
Resource:
sun-sentinel.com/local/palm-beach/fl-ne-west-palm-beach-pregnant-woman-killed-20200930-764rq72ipbcrjlm4aznmo6bec4-story.html
https://www.leiferlaw.com/what-it-means-if-your-car-is-totaled/