Boca Raton Car Accident Lawyer
At Leifer & Ramirez, our lawyers have decades of experience helping car accident victims get compensation for their injuries. As a Florida personal injury law firm, we are experienced in all types of auto accidents. We have helped auto accident victims just like you receive the compensation they deserve. It's normal to have a lot of questions after a car accident. We offer free consultations, and we will evaluate your auto accident case for free. If we decide to take your case, you will pay nothing unless we win money on your behalf. Contact our experienced Boca Raton car accident lawyers today to schedule your no obligation consultation or feel free to read on for more information.

Most Common Auto Accident Types in Florida
There are a variety of auto accidents out there, and there is definitely no one-size-fits-all case. Every accident and each case is unique. Depending on the details surrounding your accident, we may hire investigators, accident reconstructionists, or medical experts to help us build your case. Because we work on a contingency fee basis, however, our clients pay nothing out of pocket, regardless of how much work goes into their case. We only receive a fee if you receive a settlement.
Some common types of car accident cases we handle at Leifer & Ramirez include:
Head-On Collision
Hit and Run
Multi-Vehicle Crash
Single-Vehicle Crash
Lane Crossovers
Side Impact
Rear-End Collisions
Rollover Accidents
T-Bone Accidents
Sideswipe Accidents
Pedestrian and Car Accidents
Let Us Deal with Insurance Companies
We know how difficult and frustrating it can be to deal with insurance companies and their harsh adjusters. They look for every possible way to lower your settlement and ensure you are getting the lowest amount of money possible. When they come to you with a settlement, it will likely be a low ball offer, and they will try to push you to settle your injury claim for much less than you deserve.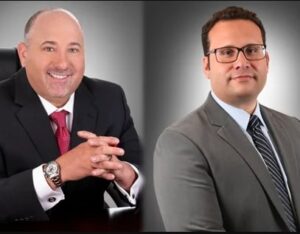 Insurance companies are in the business of making money, not fairly compensating you for your injuries. They make money when they keep profits high and costs low. As a result, they will do whatever they can to minimize the value of your claim. If possible, they will even deny it entirely. Sound stressful? Unfair? The last thing you need when you are recovering from a car accident is the hassle of dealing with an insurance company. Instead of dealing with insurance companies on your own, hire an experienced Boca Raton car accident lawyer to help you fight for the compensation you deserve.The team at Leifer & Ramirez never backs down, and we routinely take on some of the largest insurance companies in the world.
Common Causes of Car Accidents
There are millions of car accidents that occur throughout the country each year. While some are just minor fender benders resulting in no injuries, there are still thousands who are treated in local emergency rooms and hundreds that die. With today's technology, there is a greater emphasis on safety. The causes of car accidents can vary greatly, but it is important for everyone to understand what those common causes are.
Distracted Driving
Distracted driving is becoming such a common concern that the Centers for Disease Control and Prevention (CDC) are launching campaigns to stop it. It is estimated that more than 9 people are killed each day in the United States due to distracted driving, and more than 1,000 are injured.
Distracted driving is any type of activity that takes a driver's attention away from the road, even for a brief second, which can lead to a devastating accident. Distracted driving can include a variety of things, such as:
Talking to passengers in the vehicle
Talking on a cellphone
Changing the radio station
Setting the navigation system
Eating or drinking
Applying makeup, brushing hair or even shaving while driving
Handing something to a child or passenger in the backseat
Texting and Driving
Texting while driving is a part of distracted driving, but it has become so serious that most people consider it a category all on its own. While Florida has laws against texting and driving, there are plenty of drivers out there that choose to do it anyway. The large majority of those drivers being under the age of 20.
Drinking and Driving
Even with all of the programs out there and awareness, there are still plenty of accidents in Florida caused by drunk driving.
Florida as well as other states is handing down harsher criminal punishments for those who still choose to drink and drive, but that doesn't offer compensation to those injured by drunken drivers. That is why these injured victims turn to the assistance of a skilled car accident attorney.
Speeding
These days everyone seems to be in a hurry—and it shows. States are raising their maximum speed limit on highways hoping drivers will no longer recklessly speed, but it isn't doing much.
Speeding is still one of the most common causes for deadly accidents on the highways and roads in Florida. Unfortunately, the most common culprits of these accidents are teenage drivers who feel speeding is exhilarating and do not care much about responsibility.
Reckless Driving
Reckless driving is still common. From ignoring street signs to weaving in and out of traffic, it is still a common cause for accidents in Florida. Some of the more common types of reckless driving seen include:
Speeding
Tailgating
Failure to signal
Crossing crosswalk with pedestrians
Speeding in residential or school zones
Failure to yield
Running a stop sign or red light
Road rage
You May be Entitled to Compensation – Regardless of the Cause
If you or a loved one was injured in one of these common types of accidents, then you may be entitled to a settlement for your injury. The team at Leifer & Ramirez wants to help you with your case. We may be able to seek a settlement for:
Medical Bills
Long-Term Care
Car and Personal Property Damage
Lost Wages
Death (Wrongful Death Case)
Pain and Suffering
There is limited time to file a car accident claim against a negligent party. So, it is imperative you speak to a car accident attorney at Leifer & Ramirez right away to see if you have a case.
Damages You May be Entitled To
Regardless of the type of accident you have encountered, if you have injuries, you may be entitled to a settlement. The attorneys at Leifer & Ramirez can help you recover compensation for things like:
Medical Costs – Medical bills can include emergency room visits, x-rays, radiology reports, hospital bills and care, surgeries, physical therapies and rehabilitative care, appointments, and medications.
Future Medical Costs – You may have medical costs long after the car accident. Our attorneys can get compensation for those future medical costs so that you do not have out-of-pocket expenses.
Lost Wages – If you have to take time away from work to recover, our attorneys will help secure compensation for those lost wages. We will also assess any future loss of earnings.
If you are partially disabled or permanently disabled and must change jobs, we will ensure the insurance company helps pay for the loss of earning capacity in the future, too.
Pain and Suffering – If you have physical or emotional pain because of the accident, you may be entitled to pain and suffering compensation as well. You will have to prove the nature of the injury and the associated pain, how long you have endured it, and how long you will continue to endure until the pain and suffering subsides.
Hire a Skilled Boca Raton Car Accident Lawyer Today
The best way to get maximum compensation for your injuries is to speak with a skilled Boca Raton car accident lawyer. The team at Leifer & Ramirez has helped countless auto accident victims receive the compensation they deserve for their injuries. We can help you, too. Contact us today for a free consultation and we will meet with you when and where it is convenient.
All consultations are confidential, and there is no obligation to hire us, even if you meet with us and decide not to pursue a case. Call today and let us evaluate your case for free.