Car Seat Safety for Kids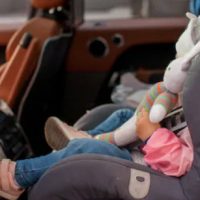 According to the Centers for Disease Control and Prevention (CDC), car accidents are consistently one of the leading causes of death for children in this country. In 2017 alone, almost 700 American children ages 12 years old and younger died as occupants in motor vehicle crashes and almost 116,000 more were injured. For this reason, taking the time to understand how to keep your kids safe on the road can help you avoid an accident in the first place or, alternatively, help you protect your loved one when an unexpected accident occurs.
Research Your Car Seat

Using a car seat is a simple measure that can also be a life saving one. The CDC has also reported that simply using a car seat reduces the risk for injury in crashes by 71–82 percent for children when compared with seat belt use alone. However, that doesn't mean that all of these seats are created equal. It is important that children have a car seat or booster seat that is appropriate for their weight, height, and age. In addition:
Do online research prior to purchasing a car seat.
Make sure the one you choose has good reviews and no product recalls.
After purchasing your car seat, make sure you take the time to read the installation directions so that you can install it properly.
Following these simple steps can be critical to helping you keep your children safe in their seat. Most importantly, this can help you keep them safe on the road in a worst case scenario.
What if My Child is Injured in a Car Accident?

Despite your best efforts to keep your little one safe, young children can still be injured during the unfortunate event of a car accident. If you and your family find yourselves in this situation, it is imperative that you understand how to proceed in the coming days. You should ensure that you take him or her to see a doctor immediately after an accident. Afterward, you should stay alert for any changes or behavior or medical symptoms in the days and weeks following your child's accident. This is especially important in situations involving the youngest children who are not able to communicate their pain. After obtaining the medical help your child needs, you should consult with an experienced personal injury attorney as soon as possible.
Has Your Child Been Injured or Killed in an Accident Because of Someone Else's Negligence?
As car accident and motor vehicle collision lawyers, we know car accidents and that also means we are familiar with the tragic circumstances that lead to the smallest members of our families becoming injured in ways we can't control. Regardless of who is responsible for the negligence that caused your loved one's injuries, there is a good chance that you are entitled to recover from the responsible parties. As the car accident attorneys of Leifer & Ramirez with offices in Boca Raton, Fort Lauderdale and West Palm Beach, we have helped many people pursue the compensation that they deserve and you can count on us to help you hold the responsible parties accountable. Contact us today for help.
Resource:
cdc.gov/injury/features/child-passenger-safety/index.html?CDC_AA_refVal=https%3A%2F%2Fwww.cdc.gov%2Ffeatures%2Fpassengersafety%2Findex.html
https://www.leiferlaw.com/reasons-to-talk-to-a-personal-injury-attorney-after-a-car-accident/