3 Bad Driving Habits to Break Today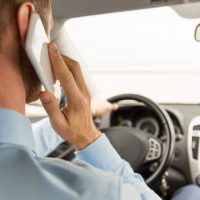 In lieu of the thousands of car accidents that occur every year in the Sunshine State, we should all be doing all we can to try to avoid ending up in one. However, bad habits are much easier to form than break and unfortunately, that is also true of the negative behaviors each of us does routinely while behind the wheel. When you do a lot of driving, it is unfortunately very easy to take things for granted and forget that driving can actually be a very dangerous activity. The good news is that educating drivers on poor driving habits and ensuring that everyone is aware of the safety risks can help us all stay safer on the road.
Therefore, you should take a look at your own behaviors and correct the following bad driving habits as soon as possible.
Using your phone while driving. Undoubtedly, one of the most important habits to correct is looking at your phone while you are driving. Studies continue to demonstrate that glancing at your phone, even for a short time, can increase the odds of you getting into a car crash. For example, the Centers for Disease Control and Prevention have asserted that upwards of 1,000 Americans are injured on a daily basis due to distracted driving like phone related actions. Further, it takes just five seconds to cover a football field-sized portion of Highway at 55 mph, the approximate same amount of time needed to send or read a text.
Failing to adhere to speed limits. We have all been in a hurry at one time or another. But being in a hurry is not an excuse for driving at excessive speeds that can put your own life and the lives of others on the road in danger. Posted speed limits have been determined by authorities to be the appropriate speed for a given road and we can all stay safer by staying at, or closer to, these limits.
Not signaling. This is a simple action that can save lives and yet this is an action that many drivers don't do regularly because of laziness, forgetfulness, or distractions. However, signaling is an easy way to let the other drivers around you know what you're going to do so they may act accordingly. Even if you think doing so seems pointless, signal to indicate your actions to others whether you are changing lanes, making a turn, or entering or exiting a highway.
Form a New Habit By Contacting Us Today.
As the  car accident attorneys of Leifer & Ramirez with offices in Boca Raton, Fort Lauderdale and West Palm Beach, we encourage every motorist to practice safe driving habits. However, we also help people everyday who are walking testaments to the fact even the best safety tips are not enough to combat every accident. When the unimaginable happens, it is important to discuss all your options with an experienced car accident attorney. Our firm has handled virtually every scenario involving car accidents and we have the skills and understanding to help you if you have found yourself the victim of someone else's negligent behavior. We offer a free, no obligation consultation during which we will listen to the circumstances of your injuries and offer advice regarding your next steps. Reach out for help today to begin.
https://www.leiferlaw.com/reasons-to-talk-to-a-personal-injury-attorney-after-a-car-accident/