Understanding Rollover Accidents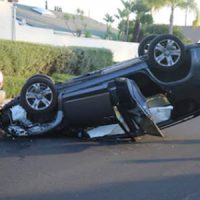 In a tragic report published recently by the South Florida Sun Sentinel, it was asserted that a man was killed in a recent Sunday crash after his car rolled over. The 45-year-old Pompano Beach resident perished in a single vehicle accident after he lost control of his car while exiting Interstate 95. For reasons that remain unclear to authorities at this point, the man exited the exit ramp and entered the grassy shoulder. He was then thrown from the vehicle before authorities later pronounced him dead at the scene.
How Common Are Rollover Accidents?

While no one wants to find themselves in an accident, the prospect of rolling over while inside a car is an especially undesirable situation. But unfortunately, this doesn't stop them from happening nor reduce the level of severity when they do. Sadly, just in 2016, rollover accidents accounted for almost 18 percent of all fatal car accidents. Perhaps unsurprisingly once you think about it, the biggest vehicles are also more prone to rolling over. Light trucks and trucks experienced the highest rollover rate in fatal car accidents that year with over a quarter of these accidents being attributed to those vehicles.
What if Mine Was the Only Vehicle Involved in My Rollover Accident?
Due to the nature of these accidents, the person who becomes injured in a rollover crash is often inside  the only vehicle involved in the accident. But fortunately, personal injury law here in the Sunshine State may even offer legal compensation to those who were involved in a single-vehicle accident at the time of the crash. Because Florida is a state with no-fault auto insurance, the auto insurance provider of any driver who has been involved in an accident will generally pay for certain damages, regardless of fault, up to a specified limit due to personal injury protection (PIP). That means that you may be able to recover medical expenses from your own PIP insurance as anyone who has a valid Florida license plate is required to have at least $10,000 in PIP insurance coverage. Regardless, you should obtain legal help prior to thinking your legal options are limited. The best way to find out your legal options is to reach out to an experienced personal injury attorney who can take a look at the circumstances of your injury and help you decide how to proceed.
We Are Here to Help.
Because rollover accidents are so serious, they unfortunately often result in serious injuries. Therefore, anyone who has suffered injuries as a result of this kind of accident because of another driver's actions or vehicle defects should understand their rights. The best way to learn and clarify your rights and options is to reach out for help from someone who has represented many victims of others' negligence. As the  car accident attorneys of Leifer & Ramirez with offices in Boca Raton, Fort Lauderdale and West Palm Beach, our entire firm is centered around helping accident victims who have suffered the same types of injuries as you are currently experiencing. Reach out for help today to begin understanding your options and moving forward.
Resource:
sun-sentinel.com/local/broward/deerfield-beach/fl-ne-fatal-crash-sample-road-20200426-k3sgak2r3zbd3e3kfw6anqnjuy-story.html
https://www.leiferlaw.com/3-bad-driving-habits-to-break-today/