Using Cruise Control Safely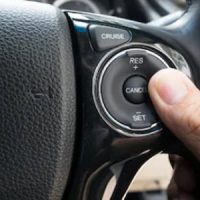 Most vehicles come equipped with cruise control these days as a standard feature. Many drivers find it handy, especially for long road trips, as cruise control allows drivers to maintain a certain speed without having to constantly press the gas pedal. While cruise control allows drivers to relax and can help maximize gas mileage and avoid speeding, it is still important to understand that the usage of cruise control can be a dangerous choice in certain situations. As indicated in a Wall Street Journal report, drivers who rely on cruise control can actually be placing themselves at an increased risk of accidents related to drowsiness or distraction. The report, which was based on a study published by a French university, also indicated that researchers found that drivers' vigilance, which includes the ability to respond to emergencies, is impaired when drivers are inactive for long periods and rely on cruise control. Episodes of drowsiness, for example, increased by 25 percent when test participants were using cruise control, compared to test groups that didn't use the feature whatsoever.
While it may feel like cruise control can be used to let the car take over, it is instead necessary for drivers to stay alert and understand how to use cruise control safely before they ever hit the button to turn it on.
Safety Tips for Using Cruise Control
Always read the owner's manual. Prior to attempting to operate the cruise control, you should always read the manual that came with your vehicle. Make sure you understand any safety features specific to your individual vehicle.
Follow road rules. Pay attention to speed limits and control set your cruise control speed at a speed that seems appropriate in lieu of both the speed limits and the current driving conditions.
Don't rely on the feature to engage in distracted driving.
Adapt to the weather. The weather changes quickly here in South Florida so while it is important to look at the forecast, it is equally important to pay attention to the weather. Avoid using cruise control when you're in the midst of rain, fog, hail, snow, or other adverse conditions.
Understand where cruise control should be used. Because cruise control involves riding along at one speed, it works best on open roads such as highways and is tedious to use on city streets with stop signs and lights. It can also be hazardous to use this feature on hills and winding roads.
Have You or a Loved One Been Injured in an Accident?

Whether an accident is caused by a driver who is using cruise control or due to some other form of negligence, it is clear that accidents unfortunately won't be ending anytime soon and that many of them have dire consequences. If you have been injured in one, you deserve to have the help of an experienced attorney so that you can take full advantage of the options you have under Florida law to hold the accountable party responsible. As the car accident attorneys of Leifer & Ramirez with offices in Boca Raton, Fort Lauderdale and West Palm Beach, we will persevere until we help you obtain the compensation that you deserve. Contact us today to begin.
Resource:
blogs.wsj.com/corporate-intelligence/2013/08/21/cruise/
https://www.leiferlaw.com/why-you-should-obtain-medical-treatment-quickly-after-a-car-accident/