The Ugly Side of Permanent Cosmetic Beauty Products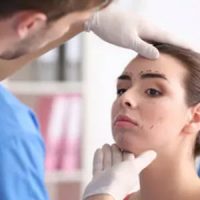 Whether you have envisioned waking up with "perfect" eyebrows due to microblading or not having to line your lips or eyes, permanent makeup offers a seemingly convenient, uncomplicated, and relatively inexpensive solution for being able to enter any situation with a face that is already made up. For these and other reasons, the application of permanent makeup – also known as cosmetic tattooing – has become an increasingly popular procedure among people here in the United States and especially in South Florida where cosmetic surgery reigns supreme. However, it is also an increasingly dangerous one.
The Recent News Article Addressing Growing Concerns With Permanent Makeup
Unfortunately, permanent makeup comes with some serious health risks that no one talks about when showing off pictures of their latest work. Having permanent makeup applied means exposing yourself to a risk of contracting everything from a communicable disease to a skin infection. In addition, Local 10 News reported in a recent article that health inspectors have found that multiple salons who offer permanent makeup as a service have put customers at risk with various types of questionable operating procedures. Just in the last six months, Miami-Dade Department of Health inspectors have filed dozens of unsatisfactory inspections for everything from improper sanitization to artists working without a license.
What Steps Should Be Undertaken Prior to Allowing Someone to Apply Permanent Makeup?
Temporary cosmetics users can attempt to be vigilant about which products they're buying in order to limit their exposure to chemicals. However, there are many factors outside of the control of the average consumer when it comes to purchasing products – this is heightened when it comes to the application of permanent makeup. Therefore, it is imperative that you carefully check the credentials of anyone you are considering to allow applying permanent makeup, as well as the credentials of the facility itself. This includes:
Check out online reviews.
Ask to speak with former clients.
Ask to see before-and-after photographs.
Only work with a state-licensed aesthetician.
Additionally, the research doesn't stop once you are in the salon on the day of your service. Before allowing your aesthetician to begin:
Look out for any signs that suggest the salon is not a safe, sterile environment such leaky pipes or drains, standing water, signs of mold, pests, or infestations.
Make sure the aesthetician uses sterile disposable gloves and a face mask. Anyone providing this kind of service should also appear generally clean and well presented.
If the tools used by the aesthetician are disposable, make sure they come out of a new, unopened package. Otherwise, ensure he or she is using sterilized equipment if the tools are reusable.
Allow Us to Help.

If you or your family have been impacted by health problems following the use of cosmetics or the application of permanent makeup, you may be entitled to compensation. As the South Florida defective product attorneys of Leifer & Ramirez, we understand how tragic the results of these kinds of circumstances can be and we are dedicated to getting you the compensation you deserve. We have decades of experience helping victims of others' negligence and you can turn to us for help by simply reaching out today.
Resource:
webmd.com/beauty/features/how-safe-permanent-makeup
https://www.leiferlaw.com/updates-on-a-tesla-tragedy-and-the-wide-variety-of-product-liability-lawsuits/