The Potential Consequences of the Increasing E-Cigarette Use Among Young Americans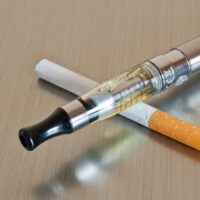 Florida Today recently reported that high schoolers from Brevard County had plans to travel to Tallahassee to ask lawmakers to impose stricter regulations on e-cigarette companies in order to address the surge in discipline problems they have reportedly been seeing in their schools. Student government leaders presented their plan at a school board meeting which included asking legislators to require e-cigarette companies to disclose the ingredients in e-liquid they sell. Additionally, the students would like these companies to fund anti-vaping education.
The actions of the teens is understandable, as a few months ago WFLA News reported that the American Lung Association had given the Sunshine State failing scores in multiple categories on a report card that graded tobacco use among teens.
How Common is E-Cigarette Use Among Teens?
Unfortunately, e-cigarette use, also known as "vaping", is now the most commonly used tobacco product among U.S. youth. The usage is so common among young people these days that the U.S. Surgeon General declared vaping among youths an epidemic in a December 2018 advisory report. That report indicated that e-cigarette use among middle and high school students increased 900 percent from 2011-2015 before declining for the first time from 2015-2017. Unfortunately, vaping among youth is again on the rise and increased 78 percent among high school students within the past year. Disturbingly, in 2018 alone, more than 3.6 million young Americans used e-cigarettes, including 1 in 5 high school students and 1 in 20 middle school students.
What Signs Should Parents and Caregivers Watch Out For?
One of the biggest issues with young people and vaping is that it can be very difficult for parents to monitor. Unlike traditional cigarettes, there is no odorous smoke that would give parents a clear sign that their children are utilizing these devices. What a little odor that is generated during usage dissipates quickly – one reason for their popularity among young people. Parents should also understand that e-cigarettes don't only house tobacco. These devices come in many forms that can be used to inhale everything from marijuana to oils. Therefore, in addition to discussing the risks of e-cigarette use with their children, parents should also keep an eye out for these signs:
Strange items. Vaping devices can vary widely in appearance but typically have holes on each end. Be aware that there are also YouTube videos demonstrating how to make vape pens out of everyday items such as a highlighter. Also look out for refill pods, atomizers and cartridges, and unfamiliar chargers that don't match your child's cell phone or other electronics.

Unexplained coughing and throat-clearing. Just like traditional smoking methods, vaping can lead to a persistent cough.

Random sweet smells. Young e-cigarette users often choose scented liquids over the odorless versions that can also be used. While any smell will fade quickly, you may notice an unusually sweet smell.
Are There Other Risks Associated With E-Cigarette Use That Parents Should Be Aware of?
Sadly, yes. While e-cigarettes are perceived by many young people as being a safer alternative to traditional cigarettes, they carry a very real explosion risk. A 2017 report released by the U.S. Fire Administration indicated that between 2009 and 2016, there were at least 195 incidents in which an e-cigarette exploded or caught fire.
If a young person you love suffers from this kind of tragedy, you may be able to recover well-deserved compensation by filing a product liability lawsuit against the manufacturers of the e-cigarette.
You Can Depend on Us.
If a young person you love has been injured as a result of using an e-cigarette, we may be able to help. The Boca Raton personal injury attorneys of Leifer & Ramirez have helped many people pursue the compensation that they deserve during our 25 years of combined experience and we can help you too. Contact us today for help.
Resource:
floridatoday.com/story/news/2019/03/26/following-surge-discipline-problems-brevard-students-ask-lawmakers-address-vaping-schools/3282512002/