Bouncing into Fun Instead of Injuries at a Bounce House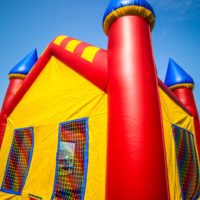 Bounce houses are often found at amusement parks, fairs, events, and birthday parties for one good reason – kids love them. Whether called a bounce house, moon bounce, or space walk, these inflatable square structures bring joy to all who jump up and down on them. The South Florida Sun Sentinel recently reported that the world's biggest bounce house will be coming to Boca Raton and Miramar for several weekends in late March and early April. At a whopping 11,400 square feet, this huge bounce house will provide a source of fun for many of South Florida's youth and the young at heart.
However, this event is also a reminder of the fact that bounce houses are not all fun and games. Instead, they carry very real potential risks.
How Common Are Bounce House Injuries?
Unfortunately, they are more common than you would probably like to think. According to a Consumer Product Safety Commission (CPSC) report analyzing U.S. hospital records, an estimated 113,272 emergency department-treated injuries associated with inflatable amusements occurred between 2003 and 2013. Of these emergency room visits, an overwhelming majority of 93 percent were associated with bounce houses.
The results of a study conducted by an Ohio pediatric emergency physician who undertook an investigation after treating many children who were hurt while playing in inflatable bounce houses indicate similarly disturbing results. That study indicated that the number of inflatable bouncer-related injuries rose 1,500% between 1995 and 2010. In just the last two years of the study, the rate of injuries more than doubled.
What Factors Can Contribute to Bounce House Injuries?
Unpredictable weather conditions. We all know that South Florida can have unpredictable weather and unfortunately, under certain weather conditions, bounce houses can collapse or take flight, trapping and even injuring the children inside.

Lack of supervision. Even when the bounce house operator is standing nearby, parents should always keep watch over their children while playing in the bounce house especially while they are small.

Mismatched ages. Ideally, bounce houses should have a system where children are divided by age range such that younger children can play separately. Very small children can easily be trampled and injured by bigger children, especially a more crowded bounce houses.
What Kind of Injuries Can Result From Bounce Houses?
Bounce house injuries can range in spectrum from being mild to being severe. These injuries can include:
Bruises
Lacerations
Broken bones
Traumatic brain injuries
Spinal cord injuries
Tragically, the worst injuries can even result in death.
Allow Us to Help.
We understand that no parent expects their child to be injured while enjoying what should be a fun activity and we sympathize with what you and your family have experienced. If your child has suffered an injury in a bounce house due to someone else's negligence, we can help.
The Florida personal injury attorneys Leifer & Ramirez have helped many people pursue the compensation that they deserve during our 25 years of combined experience and we can help you hold the responsible parties responsible. Contact us today for help and we can begin helping you hold the responsible parties accountable.
Resource:
sun-sentinel.com/entertainment/events/fl-et-worlds-biggest-bounce-house-boca-raton-20190318-story.html
/understanding-how-social-media-can-jeopardize-your-personal-injury-claim/