Preventing Skateboarding Injuries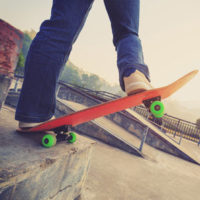 Skateboarding is a popular recreational sport that is even a mode of transportation for some people. While skateboarders share the road and sidewalks with vehicles, scooters, bicycles and pedestrians, many of them respect the others on the road and strive to act safely and make it uneventfully from one place to another. Unfortunately, despite attempting to skateboard safely, riders can still be injured in accidents, especially when the operator of a motor vehicle is negligent.
What Example of a Skateboard-Related Accident was Recently in the News?
The South Florida Sun Sentinel recently reported that a 15-year-old boy has passed away after he was struck by a vehicle in a skateboarding accident in Fort Lauderdale. A police spokeswoman has reported that the driver of the car that hit the boy has not yet been identified.
How Often Do Skateboarding Injuries Happen?
According to the U.S. Consumer Product Safety Commission, it is estimated that in 2017 alone, over 98,000 people were treated in hospital emergency rooms for skateboarding-related injuries. Over 75 percent of these injuries occurred to males. Additionally, these injuries occurred most often between the ages of 15 and 24.
What Can Be Done to Help Decrease the Risk of a Skateboarding Injury?
Utilize protective gear. Before you head out, consider the shoes you have on and whether they have the appropriate traction level to help you stay secure on the skateboard. Also put on protective gear such as a helmet and knee and elbow guards. If it'll get dark during your journey, make sure that your clothing has reflective panels that make it easier for drivers to see you.

Turn off the music. Even though wearing headphones and listening to music while riding may seem like a good way to pass the time, you should turn the music down and consider waiting to listen to it all together until you reach your destination. Unfortunately, headphones can make you miss a beeping horn and otherwise distract you from what's going on around you.

Skateboard in designated areas. Consider skating in designated skate park and staying off the roads and sidewalks altogether. In addition to the fact that they are designed with plenty of the angles that help skateboarders do the tricks that have made the sport so popular, this is also a surefire way to ensure that you avoid a collision with a vehicle or pedestrian.

Follow traffic signals when crossing. Try to stay off of the road and on the sidewalk as much as possible. When you do need to cross, make sure you do it within a crosswalk and wait to cross until the traffic light gives you the right-of-way before you exit the sidewalk, even if you don't see any cars.

Attempt tricks appropriate for your level of skill. The latest trick on YouTube can also be an injury-causing maneuver for a skateboarder who does not have the experience or skill level to perform it and attempts to anyway. Before attempting something you may not be ready for and risking injury, be realistic about abilities.
What are the Legal Rights of Skateboarders Injured as a Result of an Automobile Accident?
When skateboarders are injured, it is often the result of a negligent motor vehicle driver. The silver lining of this is that you can recover from the parties who are responsible for your injuries. The Boca Raton auto accident attorneys of Leifer & Ramirez have helped many people pursue the compensation that they deserve during our 25 years of combined experience and we can help you too. Contact us today for help.
Resource:
sun-sentinel.com/local/broward/fort-lauderdale/fl-ne-fort-lauderdale-teen-killed-20190331-story.html
/understanding-how-car-accidents-can-lead-to-traumatic-brain-injury/