The Perks of Telehealth During the COVID-19 Pandemic For Your Personal Injury Claim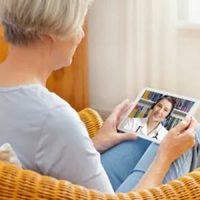 The coronavirus pandemic has presented a global challenge unlike any we've ever seen. Among many other changes in our lives, telemedicine and virtual care have quickly become important tools in being able to continue obtaining medical treatment following a Florida car accident or other incident resulting from someone's wrongdoing or negligence. And as recently reported by Local 10 News, the telehealth expansion has already increased and is likely to continue well beyond the pandemic. For example, a Department of Health and Human Services statistical report found that in April, about 43 percent of primary care visits through Medicare were via telehealth while prior to the pandemic, more than 99 percent of Medicare-funded visits were in-person appointments.
Benefits of Telehealth
Telehealth is essentially the administering of medical treatment remotely through phone calls, text messages, emails, or online portals as opposed to having patients attend in-person examinations.
Everyone stays safer. After already finding yourself an accident victim, not having the stress of in-person visits during a global pandemic can be invaluable. In addition to reducing the risk for patients, virtual appointments also help keep medical staff safe.
Patients without transportation have care. Everyone unfortunately does not have the means or resources to attend in-person examinations right now. Telehealth allows even those who are primarily confined to their homes to receive medical treatment.
Essential resources are able to go where they are needed. For every pair of gloves a doctor doesn't have to change into between patients and every mask that doesn't have to be used for a routine appointment for someone who forgot theirs at home, there is another resource reserved to fight the virus we are all working so hard to eradicate.
But What About the Quality of Patient Care? 
As great as the perks may sound, none of them answer the question that remains up in the air despite arguably being the most important consideration – whether providers can properly care for patients via telehealth. In many cases, telehealth communication is conducted using an audio-visual, real-time, two-way interactive communication system. However, it is feasible that providers might struggle to find a proper treatment and ensure that a medical condition has been thoroughly investigated when they have not conducted an in-person medical evaluation. For these reasons, while the perks of making telehealth more widely available and offering these services as an alternative are clear, at least for a certain period, telehealth may need to still remain a supplement to in-person services in the long term and not a replacement for them.
Turn to Us For Help 
If you or a loved one has been injured in a car crash or another kind of Florida accident, you should contact a personal injury attorney who has many years of experience helping accident victims. As the South Florida personal injury attorneys at Leifer & Ramirez, with offices in Boca Raton, Fort Lauderdale and West Palm Beach , we have dedicated ourselves to serving as a buffer between people that have been injured because of another person's negligence and the insurance companies that often have to be battled in order for appropriate compensation to be afforded. We can help you work with your medical treatment providers to come up with a plan that allows you to get the treatment you need while keeping everyone as safe as possible during these changing circumstances. Initial consultations are free and we work on a contingency-fee basis so there is no risk to contacting us today.
Resource:
local10.com/news/politics/2020/08/30/fad-or-future-telehealth-expansion-eyed-beyond-pandemic/
https://www.leiferlaw.com/beach-related-accidents-and-civil-liability/