The Dark Side of Nighttime Driving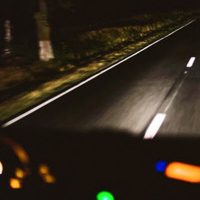 The Orlando Sentinel recently reported that a 22-year-old Kissimmee woman died in a recent nighttime accident after the car she was riding in lost control and crashed. The young woman was a passenger in a car driven by her husband around midnight when it veered off a curved road and slammed into a tree on the side she was sitting. Sadly, the woman, who has not yet been identified, perished at the scene of the accident and her husband, who is also just 22-years-old, remains hospitalized in critical condition. Miraculously, the couple's one-year-old son survived the nighttime crash with minor injuries.
How Dangerous Can Nighttime Accidents Be?

Driving during the daytime clearly has its own risks, but driving at night has the potential to be even more dangerous which is unfortunately reflected in statistics. According to the National Safety Council, the risk of a fatal crash is three times higher when driving at night. And sadly, the implications of this higher crash risk are clearer than any of us would like to contemplate as half of traffic deaths happen at night despite the fact that Americans only do one quarter of our driving in the dark.
Avoiding Known Causes of Night Driving Accidents
Keep up with your maintenance. Importantly, Florida law dictates that all motor vehicles in Florida must have two uncovered and unaltered headlights in good working order that shine a white light. Keeping up with maintenance like this can help drivers avoid accidents.
Never drink and drive. While operating a car under an altered state of mind is never a good idea, drinking and driving at night is an especially bad one because visibility is even worse in low light conditions and does a driver no favors when his or her thinking, judgment, and physical capabilities are impaired.
Keep yourself awake. Drowsy driving puts everyone on the road at risk. If driving in darkness after a long day is making you tired, try to keep yourself up by playing loud music or opening the windows to stay alert.
Don't engage in distracted driving. Don't touch your phone, eat, put on makeup or do other things that are distracting while you're driving.
Map your route in advance. Don't depend on your GPS alone when you are headed to an unfamiliar location. You may not be able to see road signs and landmarks as well in the dark and it's therefore helpful to familiarize yourself in advance with where you're going.
Have You or a Loved One Been Injured in a Nighttime Accident?
Being injured in a car accident that takes place at any time of day inevitably leads to consequences that are costly, time consuming, and physically and mentally challenging. If you or a family member has been seriously hurt due to someone else's negligence, you need an experienced personal injury attorney who will give you the individualized attention you deserve. As the  car accident attorneys at Leifer & Ramirez, with offices in Boca Raton, Fort Lauderdale and West Palm Beach, our focus is on our clients and we are committed to providing stellar service to every accident victim we assist. If you entrust us with helping you with your case, we will work hard to understand your needs so we can help meet them. We are ready to investigate what happened and work to secure any compensation you may be entitled to as soon as you reach out for help today.
Resource:
orlandosentinel.com/news/osceola-county/os-ne-osceola-fatal-crash-buenaventura-20200719-ipn63ojo4jepbnemobm6l7zdyu-story.html
https://www.leiferlaw.com/understanding-and-protecting-your-rights-after-a-car-accident/