The Dangers of Walking For Pedestrians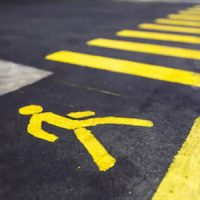 Car accidents can happen in many different ways as we all know. However, one of the scariest prospects for anyone who spends any time traveling by foot is the idea of colliding with a vehicle. Walking from one destination to another can be an ideal alternative to driving as it can be a good way to burn calories and help preserve the environment. But unfortunately, it can also be dangerous for pedestrians who happen to come in contact with a negligent or reckless driver who is sitting behind the wheel of a car.
How Dangerous Can Walking Be For Pedestrians?

Unfortunately, Florida's year round beautiful weather and mild climate also make it the Sunshine State a risky place for pedestrians from both near and far. Sadly, Florida tops the nation as the most dangerous place for pedestrians. Throughout the state, almost 5500 pedestrians were killed between 2008 and 2017. In addition, the South Florida area actually ranks 14th on the list of the 100 largest metropolitan areas in the U.S. And across the nation, one crash-related pedestrian death occurs every 1.5 hours.
Why Can a Collision With a Car Have Such Tragic Results for Pedestrians?

When you sit back and think about the circumstances of collisions involving pedestrians, the propensity for serious implications actually makes perfect sense. As pedestrians, we have very little protection surrounding us that could act as a buffer between us and a vehicle we happen to collide with. Unlike the driver of a car who is protected by layers of metal, pedestrians have mere layers of clothing that offers pedestrians minimal protection from anything they happen to encounter on the road.
What Factors Are Contributing to the Accidents that Put Pedestrians in Danger?

As stated above, it doesn't take much for a collision between a car and a person to turn serious. For this reason, it is important to understand the factors that contribute to these accidents occurring in the first place so that, ideally, they can be avoided. There is a correlation between a lack of pedestrian safety measures and fatal vehicle-pedestrian accidents. Other factors that contribute to these kinds of collisions include:
Broken traffic signals
Poor lighting causing low visibility
Lack of sidewalks forcing pedestrians into the street
Overgrown bushes blocking drivers' view of the sidewalk
Have You or a Pedestrian You Care About Been Injured Because of a Driver's Negligence?
Unfortunately, pedestrians are some of the most vulnerable parties on the road and tragic injuries often follow collisions on the road involving them. The good news is that many injured pedestrians have rights under the law and there is no need for an additional tragedy to occur because you don't have the legal help that you need. Instead, you should allow an experienced legal team to fight for you while you focus on recovering from the traumatic experience that you and your family have been through. The experienced South Florida car accident attorneys at Leifer & Ramirez have helped many in similar circumstances over the years and we will provide the legal help you need. Contact us today to begin if you suspect that you have been injured by someone else's negligent behavior.
Resource:
miamiherald.com/news/local/article224923045.html