The Dangers of T-Bone Accidents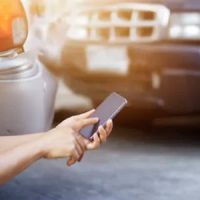 Sadly, a 69-year-old woman was recently killed in a T-bone collision in Dania Beach as reported by the South Florida Sun Sentinel. The news outlet also reported that two 19-year-old men, the driver and passenger of the other vehicle, were injured in the early evening weekday crash. Both drivers involved in the collision apparently entered the intersection at the same time. Authorities have determined that the late model Dodge Charger driven by one of the young men then struck the driver's side door of the Toyota Corolla being driven by the woman who was fatally injured, which pushed both cars across the road into Dania Beach.
Understanding T-bone Accidents

Formally known as side impact accidents and knick-named "T-bone accidents", these collisions occur when a car is hit on its side at an approximate 90-degree angle. These kinds of accidents have a propensity for substantial harm. Unfortunately, because there are no major structural barriers between a driver and a passenger in the car that is struck in a T-bone collision, serious injuries to them are highly likely in comparison with other types of car accidents. In fact, the National Highway and Safety Transportation Agency has reported that side impact crashes like T-bones accounts for 25 percent of fatalities for passenger car and light truck crashes in this country.
Potential causes of these kinds of dangerous accidents include:
Distracted behavior like texting and driving
Driving while impaired
Failure to yield
Speeding
Pursuing Compensation for T-bone Accident Injuries
Due to the nature of these kinds of accidents, there is no way to automatically assume which vehicle is at fault for a T-bone accident in many cases. However, in some cases, there is strong evidence that the other vehicle was at-fault for the T-bone accident that led to an injury victim's injuries. In those circumstances, it is appropriate to pursue compensation. An experienced personal injury attorney can help you determine which kind of accident you have been involved in. Either way, keep in mind that after your accident, you should:
Never admit fault
Exchange insurance information with the other driver
Obtain the contact information of any witnesses
Document the damages to your vehicle and your injuries with your smartphone camera if you are able
Afterward, with the guidance of an attorney who is experienced in gathering evidence for T-bone accident personal injury claims, you may be entitled to compensation for your:
Medical bills
Prescription medications
Property damage
Permanent disfigurement
Loss of earning capacity
Pain and suffering
Preserve Your Legal Rights After an Accident
Determining and proving who is at fault for a T-bone accident is not always easy. Therefore, it is imperative that you reach out for legal help as early as possible so that you can learn more about determining and proving fault for a T-bone accident and begin preserving your options. As the car accident attorneys at Leifer & Ramirez with offices in Boca Raton, Fort Lauderdale and West Palm Beach, we believe that no one should have to suffer further after being injured in an accident that resulted from the negligent or reckless actions of another driver. We are committed to helping accident victims hold the responsible parties accountable in maximizing the compensation they may be entitled to. Contact us today to begin discussing your rights.
Resource:
sun-sentinel.com/local/broward/dania-beach/fl-ne-dania-fatal-collision-20200429-tg5b4uzkfbfetcyra4dqkfhhnu-story.html
https://www.leiferlaw.com/reasons-to-talk-to-a-personal-injury-attorney-after-a-car-accident/