Skydiving Accidents and Liability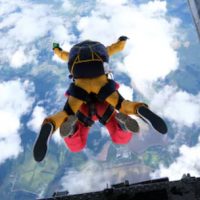 According to a local news outlet, a Miami skydiver died recently in North Florida when his parachute didn't deploy correctly during a jump. Officials have asserted that a team of skydivers were practicing for a weekend event that honors the families of fallen police officers when the fatal accident occurred. The 51-year-old who perished was reportedly trying to thank law enforcement by jumping with flags on behalf of all the fallen officers along with the rest of his team. Instead, he lost his life when his parachute failed. Video evidence apparently shows that after releasing the initial chute that was defective, he was trying to open a secondary chute but unfortunately wasn't able to get it open in time. His body was located after hours of searching a wooded area surrounding the property.
How Common Are Skydiving Accidents?
Skydiving is an exhilarating activity that triggers the ultimate adrenaline rush. However, the reason for this rush of adrenaline is the extreme risk this activity carries. The tragic incident outlined above has put the question of skydiving safety front and center once again. Fortunately, the most serious kinds of skydiving accidents don't happen that often these days and are happening less than in previous years. For example, the United States Parachuting Association, which has compiled every non-military skydiving fatality since 1961, has asserted that only thirteen skydiving fatalities were recorded in 2018 which represents a historic low. Nonetheless, none of us can deny that when skydiving accidents do happen, they often end in ways that are very tragic. Perhaps most tragically, these incidents are also usually preventable and often occur only because someone else has acted in a way that was seriously negligent.
Liability and Waivers
In almost every circumstance, you will have been required to sign a waiver that likely said something about you accepting responsibility for the risks associated with this activity before you were actually able to skydive. This document probably explicitly stated that you were agreeing not to sue in the event that something went wrong. But even if you signed a waiver, don't immediately think you don't have any legal options. A waiver does not necessarily mean that you or your family will be unable to recover in the event that you are injured. How waivers are treated by courts varies widely and some are considered enforceable while others are not. Most importantly, you should know that a waiver will generally not save a company that has been grossly negligent, reckless, or intentionally caused risks of harm. If you have any question about something you or a family member signed before a skydiving accident, you should reach out for legal help as soon as possible.
Turn to the Right Legal Team
If you have been injured in a skydiving accident or lost a loved one while they were engaging in this activity, you have every right to seek to obtain total compensation for losses caused by serious neglect or wrongful acts by a skydiving company or an individual. An experienced personal injury attorney can carefully look over the details of the injury to help you assess your likelihood of success in pursuing a claim. As the  South Florida personal injury attorneys at Leifer & Ramirez, we can help you gather the right evidence to support your assertions and structure your case in a way that shows that things happened how and when you assert they did. Contact us today for a free personalized case consultation.
Resource:
nbc-2.com/news/2020/11/16/miami-skydiver-dies-in-north-florida-after-parachute-failed/
https://www.leiferlaw.com/been-injured-get-medical-and-legal-help-to-aid-your-recovery/