Replacing a Car Seat After an Accident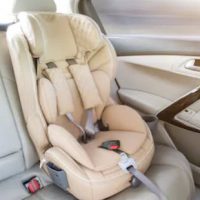 Choosing from and understanding the different types of child car seats on the market today can be an overwhelming process in light of all the variety available. Regardless of the one you choose for your little one, the good news is that the proper use of child car seats is one of the simplest and most effective methods available for protecting the lives of our young children in the event of a car accident. However, while many parents don't immediately think of child car seats as something they need to replace after a wreck, the reality is that car seats may not be safe for continued use after being involved in a collision.
Should I Replace a Car Seat After an Accident?
According to the National Highway Traffic Safety Association, a car seat in the vehicle at the time of a moderate or accident should be replaced. This still applies even if there is no visible damage to the car seat and even if the child was not in it during the crash. You should only continue to use the same car seat if ALL of this is the case:
There is no visible damage to the car seat
You were able to drive the car away from the scene of the collision
The vehicle door closest to the car seat remained undamaged
There were no injuries sustained by any of the passengers in the crash
The air bags, if the vehicle has them, did not deploy during the crash
Additionally, the owner's manual provided by the car seat manufacturer is an invaluable resource in this case and should be consulted – you can probably find a copy online even if you don't still have the original. Some manufacturers recommend that a car seat be replaced after any type of collision regardless of the level of severity and in those cases, the car seat should always be replaced.
What About Accepting a Used Car Seat?
Everyone's financial situation is different, and with the financial strain you may be feeling after an accident, especially if injured, obtaining a preowned car seat from someone else can be tempting. However, purchasing a used car seat or accepting a second-hand model is generally not the best idea. It's literally impossible to know its crash history which means it may not meet safety performance standards. You should only accept a used car seat if it's coming from someone you know and trust who would disclose the fact that it has been in an accident.
Have You or a Child Been Injured in an Accident?
In this kind of circumstance, you will need the help of a legal team that is compassionate and fully understands that you are attempting to cope with serious residuals of an injury has likely affected your entire family. As the South Florida car accident attorneys of Leifer & Ramirez, we will fight to hold those responsible for your loss accountable and win compensation to cover medical bills, lost wages, and pain and suffering. Contact us today to connect with one of our professional team members and begin with a complimentary review of your case.