Preventing Head-On Collisions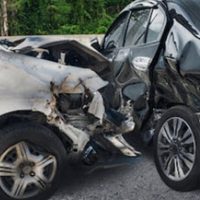 The South Florida Sun Sentinel recently reported that a head-on collision has left one person dead and two others injured. An 81-year-old Pembroke Pines woman did not survive the accident in which her vehicle struck an 18-year-old Hollywood woman who remains hospitalized. The elderly woman reportedly lost control of the Toyota RAV4 she was driving and then crossed the median and struck the Hyundai Sonata driven by the young woman. Both women were taken to Memorial Regional Hospital in Hollywood with life-threatening injuries where, unfortunately, the elderly woman succumbed to her injuries. A juvenile passenger who was riding in the elderly woman's SUV was also treated at the hospital for injuries that were less serious.
How Dangerous Are Head-On Collisions?
Head-on collision accidents are undoubtedly one of the most scary types of crashes that can happen due to the fact that unlike other accidents, these collisions involve two cars that are traveling toward each other before the respective front-ends of the two vehicles collide. And this isn't an imagined fear – the force of the impact when the vehicles collide and the proximity of the occupants inside means that these kinds of collisions can be quite dangerous.
Statistics indicate that head-on crashes actually play a significant role in causing fatalities in auto accidents. According to the Insurance Institute for Highway Safety, in 2017, frontal impacts accounted for 56 percent of passenger vehicle occupant deaths.
How Can Head-On Collisions Be Prevented?
Head-on collisions are one of the most serious types of vehicle accidents there can be and no one wants to experience one. Luckily, there are numerous ways to help protect yourself and others on the road from head-on collisions. In order to do so, undertake actions such as:
Avoid distracting activities while driving such as texting, talking on the phone, drinking, and eating
Pay close attention to pavement markings and be on the lookout for signs or markers that tell you not to enter or that you are going the wrong way
Always look ahead and that way, so long as you look more than a couple of hundred feet ahead of you, you can probably see danger coming while there is still time to act
Have You or a Loved One Suffered Injuries in a Head-On Crash?
Sadly, a head-on collision can lead to serious, debilitating injuries that can affect your life as well as the lives of your loved ones for many years to come. The good news is that victims of head-on collisions like yourself may be able to make a personal injury claim to recover damages here in the state of Florida. If either you or a loved one has been a victim of a head-on collision, speaking with the right legal team as quickly as possible can help you evaluate your options and protect your rights. As the South Florida head on collision attorneys of Leifer & Ramirez, we are dedicated to helping victims of others' negligence fight for their right to obtain fair and just compensation. Contact us today to begin the process of holding the responsible parties accountable.
Resources:
iihs.org/topics/fatality-statistics/detail/passenger-vehicle-occupants
sun-sentinel.com/local/broward/pembroke-pines/fl-ne-pines-fatal-crash-20191010-y5i6cdn5r5gs3i5tzl7p3r4xgi-story.html?int=lat_digitaladshouse_bx-modal_acquisition-subscriber_ngux_display-ad-interstitial_bx-bonus-story_______
https://www.leiferlaw.com/the-dangers-of-head-on-collisions/