NFL Player's Death Highlights Problem Of Pedestrian Deaths In Florida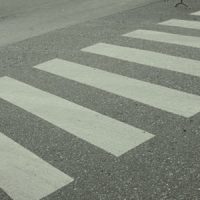 Pedestrian accidents are an often under-appreciated problem in this country. According to figures from the National Highway Traffic and Safety Administration, a pedestrian is killed on-average about every 85 minutes in the United States–more than 6,200 deaths annually. Tens of thousands more pedestrians suffer serious, life-altering injuries that often require years of medical care.
Haskins Hit by Dump Truck While Walking on I-595
The problem of pedestrian deaths recently made news here in Florida when Dwayne Haskins, a NFL quarterback with the Pittsburgh Steelers, was struck and killed on the morning of April 9, 2022, while walking down I-595 near Fort Lauderdale. As of this writing, the fatal accident remains under investigation by the Florida Highway Patrol (FHP).
Haskins, 24, was entering his second season with Pittsburgh after playing two years with Washington. He was reportedly in Florida to conduct off-season training with his Steelers teammates. According to news reports, Haskins "was attempting to walk on the westbound lanes of I-595," which is a four-lane highway. The fatal accident occurred around 6:30 a.m. when visibility was relatively low. It is still unknown why Haskins was walking down the highway, although there has been speculation he was seeking assistance after having car trouble.
What we do know is that a dump truck struck and killed Haskins. The FHP said the driver of the dump truck was cooperating with the FHP's investigation. That investigation was expected to include within 60 to 90 days.
The Potential Role of Pedestrian Liability in a Wrongful Death Case
It is still early to speculate on the potential legal fallout from this sort of fatal accident. But speaking in general terms, if a fatal pedestrian accident was the result of motorist negligence, the victim's estate has the right under Florida law to file a wrongful death lawsuit against the driver and other potentially responsible parties. Negligence in this context could mean the driver simply was not paying attention and hit a pedestrian, or it could mean other factors such as drunk or distracted driving were involved.
As with any personal injury case, the defendant in a wrongful death lawsuit may try and shift some of the blame onto the victim. Florida follows a "comparative fault" rule. This means that the trier of fact, usually a jury, must apportion fault for a fatal accident among all the parties involved. Any final award of damages is then reduced to account for the victim's share of responsibility. In the case of a fatal pedestrian accident, for instance, the defense is likely to focus on whether the victim was acting unsafely in walking down or across the street when they were struck.
Speak with a Florida Wrongful Death Lawyer Today
If you have lost a loved one due to a pedestrian accident, it is crucial that you seek timely legal advice. A qualified Boca Raton pedestrian accident attorney can review your case and advise you on your options moving forward. Contact Leifer & Ramirez today to schedule a free consultation with a member of our staff.
Source:
nbcmiami.com/news/local/questions-remain-in-death-of-nfler-dwayne-haskins-on-south-florida-highway/2733789/