Eisai Faces Florida Lawsuit Over Allegations Its Weight Loss Drug Belviq Causes Breast Cancer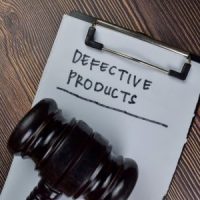 Florida law permits consumers to sue the manufacturer of any defective product if they suffered injuries as the result of said defects. This includes medications. A pharmaceutical company is liable if an ingredient used in their drug caused a "dangerous condition" or side effect.
For example, a federal judge in Tampa recently allowed a defective products liability against pharmaceutical manufacturer Eisai, Inc., to proceed. The judge denied the defense's motion to dismiss parts of the plaintiff's case. At the same time, the court did grant the plaintiff permission to amend her original complaint.
This particular lawsuit involves a drug manufactured by Eisai called Belviq. Belviq–the trade name for lorcaserin–was designed and promoted as a weight-loss drug. But in January 2020, the U.S. Food and Drug Administration requested Eisai withdraw Belviq from the market "because a clinical safety trial shows an increased occurrence of cancer." The FDA advised patients to immediately stop taking Belviq and to safely dispose of any remaining dosages they still possessed.
According to the plaintiff in the Florida case, Milana v. Eisai, Inc., the risk of cancer was far from hypothetical. She alleged that she developed breast cancer as a result of using Belviq. The plaintiff's lawsuit alleged that she took the drug for approximately seven years under a doctor's prescription.
As noted above, Eisai moved to dismiss part of the plaintiff's lawsuit. Specifically, Eisai challenged the plaintiff's theory of negligence based on "defective design" of Belviq. Essentially, Eisai argued the plaintiff failed to actually identify any defect in Belviq that caused her breast cancer.
The judge rejected that argument. She noted the plaintiff's complaint cited "internal studies" and "communications" between Eisai, its development partner on Belviq, and the FDA. Indeed, in the years leading up Belviq's FDA approval, there were several studies that flagged the potential cancer risks. Indeed, the plaintiff's complaint plausibly alleged that "Belviq was defective because lorcaserin tended to cause cancer."
The court did, however, dismiss the plaintiff's claims related to Eisai's alleged "fraudulent misrepresentation" about the potential dangers of Belviq. Here, the issue was simply a lack of specificity. The plaintiff's complaint "vaguely reference[d]" a number of allegedly false advertisements and statements asserting the drug's safety. But the judge said the plaintiff needed to identify which specific ads she saw and when she saw them. For that reason, the judge did allow the plaintiff a chance to refile her complaint to provide the requisite details.
Speak with a Florida Defective Products Attorney Today
Drug companies are quick to tout their products as the solution to your problems. But when those same products cause additional problems, those same drug companies are quick to deny any responsibility. That is why if you have been harmed by a defective drug or medical device it is important to work with a qualified Boca Raton personal injury lawyer who specializes in such cases. Contact Leifer & Ramirez today to schedule a free consultation with a member of our team.
Source:
scholar.google.com/scholar_case?case=5392375301904606613