Loose Objects and Cars Are Not a Tight Fit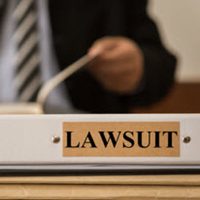 It goes without saying that being hit by a car while operating a vehicle of your own can be a traumatic experience. But some accidents cause heart-pounding reactions and leave you so shocked that you can't believe you have just experienced what you did. As one example of this, the South Florida Sun Sentinel has asserted that a driver is lucky to be alive after his front windshield was impaled by metal while he was driving on I-95 in Delray Beach. The large loose object reportedly flew at his car which shattered the glass barrier mere inches from the driver's seat before the hunk of metal apparently came to rest on the steering wheel. The man was fortunate enough to walk away with only minor injuries although he has obviously incurred some substantial property damage as well and untold mental implications. The origin of the metal has not been released to the public.
Who is Responsible When Something Falls from Someone Else's Vehicle and Hits My Car?
In general, a driver who has been negligent in failing to properly secure whatever the item was that fell on your car will likely bear liability for the damage resulting from that negligence. That means that you would probably be able to hold the driver of the vehicle in which the object was located accountable through a personal injury claim for any property damage done to your car and any personal injuries you've suffered.
Use Caution With Trying to Avoid an Object in the Road
Everyone would clearly like to avoid being involved in any kind of accident with an object. And while airborne objects may not seem as avoidable, it is natural to attempt to swerve around road debris. However, you should ensure that you attempt any kind of swerving with caution. You can inadvertently cause more damage than you would have had you hit the original object by instead hitting something (or someone) else in your attempt to avoid it. Prior to trying to swerve around any objects in the road, you should take a good look at your surroundings and assess how much time you would realistically have to adjust your vehicle before ending up a position where you would be a threat to yourself or others.
The Dangers Aren't Only Outside the Car
You should also keep in mind that it isn't just the impact of foreign objects with your vehicle that could potentially lead to a significant injury. Instead, research indicates that objects within a vehicle can cause harm to its occupants in the event of a crash. For example, one study conducted by Goodyear Dunlop Europe found that a laptop or toy kept in the back of the car could hit the front passenger with up to 50 times its own bodyweight in a collision at the equivalent of roughly 30 miles per hour.
When your car suddenly stops in a collision, anything that is unsecured – including objects – can continue to move until encountering something that prevents them from moving further. Therefore, you should be aware of any loose objects inside your car that could become problematic and keep your clutter to a minimum as much as possible.
Turn to Us
If you have been injured by a loose object in a car collision that you believe you encountered due to someone else's negligence, contacting an experienced legal team to get an opinion and weigh your opinions will cost nothing. As the  South Florida car accident attorneys at Leifer & Ramirez, we can help you tighten your efforts to receive financial compensation for your injuries. Reach out to us today for a free consultation.
Resource:
sun-sentinel.com/local/palm-beach/fl-ne-i95-metal-delray-beach-20201014-zxguse5xizbqpbodjcadwnjhua-story.html