How Single-Vehicle Rollover Accidents Happen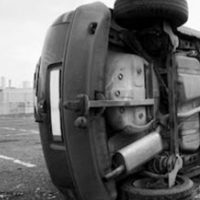 In a tragic report published recently by a local news outlet, it was asserted that an 18-year-old girl was seriously injured recently in a single-vehicle rollover crash near Hobe Sound. The teenager was in the car with another 18-year-old girl on a recent Tuesday evening when the collision happened along the southbound lanes of Florida's Turnpike near Mile Marker 120. Authorities have asserted that both girls became entrapped in the vehicle during the accident. One of the teens was flown to St. Mary's Medical Center with serious but non-life-threatening injuries after the collision. The condition of the other teen who was involved in the rollover accident remains unknown.
Understanding Single-Vehicle Rollover Accidents
Being involved in any kind of traffic crash can be a traumatic event. However, being involved in a rollover collision is an entirely different – and undoubtedly more intimidating – situation. Many rollover crashes are single-vehicle crashes and single vehicles represent the bulk of those that lead to fatalities. In fact, the National Highway Traffic and Safety Administration has stated that 85 percent of all rollover-related fatalities are the result of single-vehicle crashes. Significantly, this indicates that the majority of rollover crashes and fatalities do not involve any other vehicle besides the one that rolled over.
Factors Contributing to Single-Vehicle Rollover Accidents  
Vehicle rollovers can happen for a number of reasons. However, in many cases of single-vehicle collisions, driver negligence is a contributing factor. Some of the common examples of driver negligence that may lead to a rollover accident could include:
Speeding excessively
Driving under the influence of drugs or alcohol
Texting while driving and engaging in other distracting behaviors
Failing to check and monitor their surroundings
Not adhering to traffic signals and/or road signs
While many single-vehicle rollover accidents are the result of driver negligence, it is also important to understand that this is not always the case. There are many instances where a third party's actions contribute to an accident but he or she just happens to not become involved in the collision itself. Even if yours was the only vehicle involved, don't write off your ability to successfully pursue the compensation you deserve. Instead, reach out to an experienced personal injury attorney who can advise you of your options.
Have You Or a Loved One Been Injured in a Rollover Accident? 
Anyone who has been injured because of someone else's suspected negligence should secure the assistance of a legal team that can ensure that their side of the story is heard and that his or her legal interests are protected. Whether you have found yourself the unfortunate victim of a rollover accident or some other scenario, you need a legal advocate who is not only familiar with the process of holding an at-fault party accountable but who can also help you navigate the legal process in order to obtain compensation. As the  South Florida car accident attorneys at Leifer & Ramirez, we are dedicated to aggressively pursuing the means necessary to achieve the best possible end result for each client's particular situation. There are no up-front costs for allowing us to help and you won't have to worry about any out-of-pocket legal fees. Reach out today to learn more about how we can assist you and to begin exploring your rights.
Resource:
wflx.com/2020/11/17/teen-seriously-injured-rollover-crash-florida-turnpike-near-hobe-sound/