How Much Is My Truck Accident Claim Worth?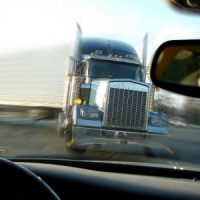 For most people, being involved in an accident with a semi-truck is the stuff of nightmares. For those unfortunate enough to have that nightmare be their reality, a personal injury lawsuit may be the only way to recover financially from such a catastrophic event. A semi-truck can weigh up to 35,000 pounds, which can be over seven times that of a standard passenger vehicle, so it's no surprise that serious harm and even death can result. When these life-altering consequences are the result of a truck driver's negligence, it can be even harder to accept and cope with these circumstances.
Suing for a Truck Accident
You have the right to bring a lawsuit to recover for injuries and damages suffered as a result of a truck accident, if the accident was caused by another driver's negligence. All drivers have a duty of care to all other drivers on the road. When they breach this duty of care, such as by driving while distracted, under the influence, or by violating traffic laws, it is known as negligence, and they become liable for any harm that occurs as a result. In order to have standing to bring a lawsuit, you will have to demonstrate that the other party was negligent. If the other driver was violating a traffic law, such as by driving under the influence of drugs or alcohol, or by speeding, negligence will be presumed. This is known as negligence per se. You will then only have to establish that you suffered physical and financial harm as a result of the negligence. Physical and financial harm can be established with medical bills.
Truck Accident Damages
There are many factors that go into determining the value of a truck accident injury claim. The first kind of damages that will be considered is economic damages. These damages can be calculated with specificity, and include any costs or lost income incurred as a result of the accident. This will include medical bills, transportation to and from medical appointments, physical therapy, and any other treatments required, as well as lost wages if you had to take time off of work as a result of your injury. You are also entitled to compensation for pain and suffering. This is generally calculated based on your total amount of economic damages, multiplied by a factor meant to correspond to the level of severity and permanence of your injury. In some cases, such as where the conduct was particularly reckless, punitive damages, which are meant to punish the negligent party, may also be available.
Schedule a Consultation with the Leifer & Ramirez
If you or a loved one have been injured in a Florida semi-truck accident, the experienced personal injury attorneys at the Leifer & Ramirez are ready to fight for your rights and hold the negligent party accountable. Contact the Boca Raton truck accident lawyers at the Leifer & Ramirez today to schedule a consultation.
Source:
forbes.com/advisor/legal/auto-accident/semi-truck-accident-lawsuit-guide/