Gas Station Slip-And-Fall Accidents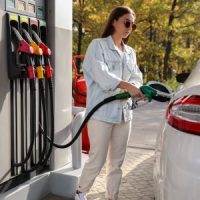 Going to the gas station is painful enough these days with prices for gallon continuing to rise astronomically, however, you might be feeling some real pain if you slip or fall. Slip-and-fall injuries are the leading cause of traumatic brain injuries in the United States, as well as the most common cause of bone fractures in the elderly. Gas stations are rife with opportunities for these kinds of injuries, from gas slicks by the pumps, to spills and wet floors in the store area, and unkempt bathrooms. If you have suffered a serious injury as the result of a slip-and-fall accident at a gas station, you may be able to bring a personal injury lawsuit to recover for the damages that you have incurred as a result.
Can I Sue for a Gas Station Slip-and-Fall Accident?
Not every slip or fall can result in a lawsuit. Some slip and fall accidents genuinely could not have been prevented, even if a reasonable amount of care was exercised. In order to have standing to bring a personal injury lawsuit, you must be able to show that the gas station reached the reasonable duty of care that it owes to customers, and that this accident happened as a result. The reasonable duty of care generally involves making a reasonable attempt to mitigate a risk of harm or to warn of it. For instance, putting a "Wet Floor" sign by a spill in a way that can clearly be seen by approaching customers can be seen as a reasonable attempt to warn customers of this risk. However, if the store leaves the spill unattended for a long period of time, even with the sign, they may be found to have breached the reasonable duty of care since they had a reasonable opportunity to clean it up. In short, if the gas station should have been aware of the spill or risk and failed to take reasonable action to promptly warn of the spill or clean it up, they can be seen to have breached their duty of reasonable care, and can be held liable for any harm that results from this breach. Additionally, you must be able to show that this breach was the direct cause of your injury, and that your injury resulted in both physical and financial damages. These damages can generally be established by showing medical records and bills.
Damages for Slip-and-Fall Accidents
The first thing to do after a slip-and-fall accident at a gas station is to seek medical attention. This is important both because you will need documentation for your claim that you were injured, and because many of the injuries potentially caused by slip-and-fall accidents are not immediately apparent, despite being quite serious. You will be entitled to compensation for all financial costs incurred, as well as pain and suffering caused by the accident.
Contact Leifer & Ramirez in Boca Raton, Florida, Today 
If you have suffered a serious injury as the result of a slip-and-fall accident at a gas station, the experienced Boca Raton slip and fall attorneys at Leifer & Ramirez are ready to help. Contact us today to schedule a consultation and learn how we can get you the maximum amount of compensation that you are entitled to.
Source:
nfsi.org/nfsi-research/quick-facts/