Woman Killed In Crash While Leaving Circle K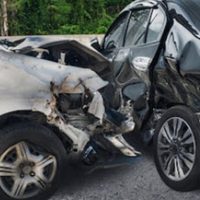 A quick trip to the convenience store may seem simple enough, but it is not always an easy feat. If motorists are not alert and paying attention to where they are going, they can easily get into a car accident. And not all crashes are minor fender benders. Unfortunately, some are deadly.
Sadly, this was recently the crash when a woman was killed while leaving a Circle K. The fatal accident happened on the morning of September 27 at the intersection of County Road 476 and County Road 647 in Bushnell.
The 38-year-old woman from Bushnell was leaving the Circle K convenience store in a sedan. At the same time, a pickup truck was heading west on County Road 476. The woman pulled out in front of the pickup, which T-boned the car. The impact of the crash caused the pickup truck to flip over. The sedan came to rest on the eastbound shoulder of County Road 476.
The woman in the sedan was taken to a local hospital, but died on the way there. The occupants of the pickup truck, a driver and passenger, were not injured.
Pulling Out in Front of Other Vehicles
When driving, you need to be acting defensively. Vehicles can come from any direction. It's possible that a car, truck, or motorcycle could pull out in front of you at any time, causing a T-bone crash, rear-end accident, or other serious crash.
You may be concerned about liability. You hit the vehicle in front of you, so are you liable, like you would be in a rear-end accident? On the other hand, the car in front of you did not see you coming or chose to pull out in front of you anyway, so they should probably be liable, right?
Determining fault can be tricky in these cases. It's hardly ever a black and white situation because no two crashes are alike. Each accident has its own circumstances involved. Police officers and insurance companies will try to determine fault through various methods. If the case goes to court, then the judge and jury will ultimately decide.
Fault may be determined by factors such as the following:
How fast each vehicle was traveling
Whether either driver should have seen the other coming
Whether either driver failed to stop at a stop sign or traffic signal
Whether or not either vehicle was functioning properly
Contact Us Today
Motorists need to be careful when exiting parking lots. Cars are often coming in both directions, and there may be multiple lanes involved, so you need to look carefully and be patient. Pulling out in front of other vehicles can lead to disaster.
A Boca Raton auto accident lawyer from Leifer & Ramirez can assist you with your crash case.  We can help you file a claim for compensation so you can physically and financially recover. Schedule a free consultation by calling our office at 561-660-9421 or filling out the online form.
Source:
clickorlando.com/news/local/2022/09/27/38-year-old-woman-killed-in-sumter-county-crash-fhp-says/