What To Know About Head-On Crashes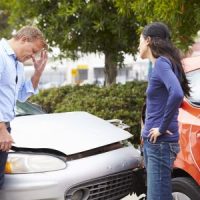 There are many types of car accidents that can occur while traveling on the roadway. One of them is a head-on crash. A head-on crash occurs when two vehicles traveling in opposite directions collide, hitting the fronts of the vehicles.
Head-on accidents are not common, but when they do occur, they are often deadly. This is especially true at high speeds, but even when the cars are driving slowly, catastrophic injuries can still occur. Most head-on crashes happen in rural areas, where the speeds are often higher.
Seat belt use can help protect vehicle occupants, as the impact of a head-on collision will likely throw the person forward. Those who don't wear a seat belt are more likely to suffer fatal injuries.
While slowing down and scanning the road ahead while driving can help in reducing head-on collisions, these crashes do tend to happen suddenly, giving drivers little time to avoid them. A person can suffer a variety of injuries, including whiplash, broken bones, back and neck injuries, brain injuries, head trauma, chest injuries, burns, and internal bleeding.
Causes of Head-on Collisions 
There are many ways in which head-on crashes can occur:
Improper passing. Drivers who pass when it is unsafe to do so may not have enough time and may end up colliding head-on with a vehicle coming in the opposite direction.
Driving the wrong way. Sometimes motorists are intoxicated or simply confused and they drive the wrong way on a one-way street or highway. These accidents tend to happen at night, when visibility is reduced.
Speaking of intoxication, driving while drunk or drugged is very dangerous. Intoxication reduces driving skills and judgment, making it more likely for a driver to engage in reckless driving and cause a head-on crash.
Distracted driving. Texting, reading, eating, grooming, talking to passengers, or adjusting the radio can cause a driver to take their eyes off the road and veer into the adjacent lane.
A driver who is overly tired may have trouble keeping their eyes open. They may fall asleep while driving and go into oncoming traffic. They may not realize it until a crash happens.
Speeding around curves. Speeding around curves is dangerous. It can cause a driver to lose control of their vehicle and veer into the adjacent lane, causing a head-on crash.
Contact Us Today
Any type of crash can cause serious injuries, but head-on collisions are much more likely to do so. These accidents are often catastrophic due to the impact involved and should be avoided at all costs.
A head-on crash can be devastating. If you or a loved one has been a victim, contact a Boca Raton auto accident lawyer from Leifer & Ramirez. We'll help you understand your legal rights so you get the compensation you deserve. You may be able to receive compensation for lost wages, medical expenses, pain and suffering, and more. For a free consultation, call our office at 561-660-9421 or fill out the online form.
Source:
trid.trb.org/view/194840