Why You Shouldn't Put Your Feet on the Dashboard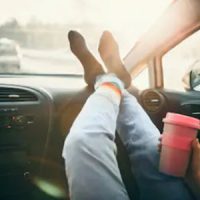 We have all heard the stories that confirm one unfortunate fact – a passenger with his or her feet on the dashboard is more likely to sustain an injury than any other occupant. A few summers ago, one mother of three from Walker County, Georgia even made it her mission to warn others after incurring life-changing injuries in a T-bone accident while riding with her feet on the dashboard. Her ankle, femur and arm were all broken by the impact while everyone else was able to walk away from the scene with scrapes and bruises. The woman had admittedly ignored her husband's warnings over the years because she believed she would be able to put her feet down in time in the case of an accident – this was not the case.
Even if you have continued to ride this way over the years because nothing bad has happened so far to you, please understand that accidents occur suddenly and quickly and when one occurs, there is NO time to prepare for impact.
These are just a few of the reasons you shouldn't put your feet on the dashboard or allow your loved ones to do so either.
It can lead to other risky behavior. After all, the entire point of putting your feet up on the dashboard is to be more comfortable. Another thing that is more comfortable is riding without a seatbelt on. And unfortunately, statistics consistently indicate that not using seatbelts is a major risk factor for crash deaths in the US. The Centers for Disease Control has published data indicating that in 2013 alone, roughly half of drivers or passengers who died in crashes in the US weren't buckled up.
It can lead to seatbelt injuries. Even when wearing a seatbelt, putting your feet on the dashboard can increase your risk of incurring an injury in a collision. This riding position changes the position of where the seat belt falls across your body, and not for the better. That means that in addition to there being an increase in the chances of broken ribs and internal injuries, passengers are also more likely to suffer spinal injuries in a car accident.
It can lead to airbag injuries. The vehicle's airbags are designed to protect a passenger who is sitting up straight with both feet on the floor and who is wearing a seatbelt. Unfortunately, they can have the opposite effect on a passenger who is riding with their feet or even one foot on the dashboard. In that case, the force of the airbag deploying can cause the legs to be projected back into the body cavity or face.
Have Your or a Loved One Been Injured in a Car Accident?

If you or someone you love has been injured in a car accident that was not your fault, you have every right to pursue compensation from the responsible parties. As the experienced South Florida car accident attorneys at Leifer & Ramirez, you can depend on us for the help you need and assistance obtaining the compensation you deserve. Since we charge no legal fees up front or until we obtain the compensation you deserve, you can depend on us to fight hard for your rights. Contact us today for help.
Resource:
cbsnews.com/news/after-painful-crash-mom-warns-passengers-to-keep-feet-off-of-the-dashboard/
https://www.leiferlaw.com/safety-tips-for-driving-in-foggy-weather-conditions/