Why Speeding Trucks Create Accident Risks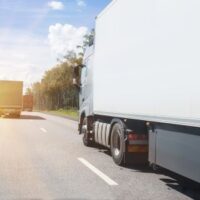 Any vehicle speeding can be scary and unsettling, and this is particularly true when the vehicle driving too fast is a massive truck. The risks associated with speeding trucks is not just a matter of perception, negligent driving behaviors coupled with large vehicles is a real and serious concern on Florida roadways.
Boca Raton personal injury lawyers are familiar with truck accidents and the devastation they can cause. Collisions can lead to high fees and costs. If you need financial relief after a traffic accident, turn to an attorney for legal support.
 Increased Stopping Distances and Reduced Maneuverability
One of the main reasons why speeding trucks are dangerous is that they require an increased stopping distance compared to smaller vehicles such as passenger cars. Because trucks are larger and heavier, their momentum makes quick stops challenging. When a truck is traveling at a high speed, the distance it needs to come to a halt is long, which means rear-end collisions are possible if the truck driver is unable to brake in time, endangering themselves and others on the road.
Maneuverability is also an issue. Large trucks, such as semis and tractor-trailers, are not as agile as smaller vehicles. Speeding exacerbates this issue, and it is then even more difficult for a truck driver to navigate turns, lane changes, and other maneuvers. Reduced maneuverability can lead to a loss of control, which can prompt multi-vehicle accidents and rollovers.
Visibility Issues and Road Safety
Often trucks have larger blind spots than other vehicles, and these areas of limited visibility become even more dangerous when a truck is driving over the speed limit or too fast for conditions. A driver may not have sufficient time to check blind spots.
To mitigate speeding truck risks, it is essential for both truck drivers and other motorists on Florida roads and highways to exercise caution and follow road safety rules. For truck drivers, this will mean adhering to speed limits, prioritizing safety over speed, and being aware of the limitations of the large vehicle they are operating. Other drivers should maintain a safe distance from trucks, understanding that the size of the vehicle can make sudden maneuvers and unexpected shifts in surroundings problematic.
In the unfortunate event of an accident involving a truck, seek legal assistance from an experienced Boca Raton personal injury lawyer. These claims are often more complex cases due to the various parties involved, such as trucking business, drivers, and insurance companies. A skilled injury lawyer can provide guidance, gather evidence, and advocate for fair compensation.
Were you involved in a collision prompted by a speeding truck? Attorneys are familiar with the serious risks posed by trucks operating too quickly and are dedicated to helping victims of truck accidents seek justice and compensation. At Leifer & Ramirez, we are committed to holding responsible parties accountable and ensuring that those affected receive the support they need to recover physically, emotionally, and financially. Reach out to Leifer & Ramirez to get a free case review. Call 561-660-9421 today.