Who Is Responsible for Passenger Injuries in a Car Accident?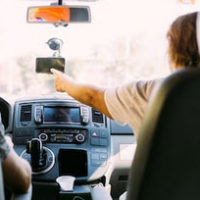 When you think about a car accident, you likely think about the drivers of the vehicles involved. But what happens to the passengers in an accident if they suffer an injury? Do they have the same rights as the driver to recover damages from the driver that is at fault? If so, what about Florida's no-fault rules? How do they apply to the passenger?
All these questions can be answered by an experienced Florida car accident attorney, but there are certain things you need to know if you were the passenger in a vehicle and suffered injuries during a crash.
Call for Medical Attention and Summon the Police
If you are the passenger in a vehicle that's been in an accident, the first step is to get the medical care you need. It is vital that you have your injuries documented, either by emergency medical responders or by your family physician as soon as possible after the accident occurs. You have 14 days after the accident to seek medical attention in order to collect PIP insurance benefits.
You also need to have the police conduct an investigation into the accident. Even if the accident seems minor, the police will be able to help you collect the insurance information from the drivers that were involved. You will need this information to file a claim. Police will also make a preliminary opinion about who was at fault for the accident.
Whose Coverage Applies if You're the Passenger?
You don't have to have insurance coverage to be the passenger in a person's vehicle. However, you may have PIP insurance of your own even as a passenger. If that is the case, you can recover damages from your own policy. If not, you may still be able to recover PIP benefits from the other person's policy.
Look at Your Own Policy
The first place you should check to recover damages is your own policy. It will be your policy that applies first. Contact your own insurance agent first to file a claim for your PIP benefits if you have a policy in place.
Next, Look at a Family Members' Policy
If you don't have your own insurance policy, you may be listed on a family member's policy, such as your parents. If your parents have you listed on their policy, their PIP insurance will likely pay for your damages as long as you live in their household, and even if they weren't involved in the accident.
Look at the Driver's Policy
If you don't have any other options for insurance, the next place to check is the driver's insurance policy. The person whose vehicle you were a passenger in at the time of the accident should pay for your damages if you don't have another insurance policy that will cover the losses.
What If No One Pays?
You can't recover damages from more than one policy, but if the PIP insurance provider that is responsible for paying doesn't, you may need to file a claim against them to collect your compensation. That's where a car accident attorney can help. The attorneys at Leifer & Ramirez in Florida have decades of experience helping their clients recover the damages that they are entitled to after suffering injuries at the hand of a negligent person. Contact us today to schedule a free and confidential consultation.
Resource:
leg.state.fl.us/Statutes/index.cfm?App_mode=Display_Statute&URL=0600-0699/0627/Sections/0627.736.html