What to Do After a Florida Boating Accident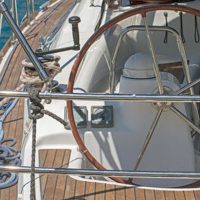 An Indiana couple is seeking more than $100 million in damages from a CEO following a boating accident in South Florida according to an article published recently by the South Florida Sun Sentinel. The couple was culminating their trip to the area for the wife's birthday with a late-night cruise through the Intracoastal Waterway when the collision occurred and the wife ended up with a traumatic brain injury.
She has since undergone two brain surgeries, including a craniotomy to relieve the pressure from a buildup of blood and spinal fluid in her skull. The lawsuit filed against the owner of the powerboat, the president and CEO of an insurance company with $37 billion in assets the couple knew from their home state, alleges that he had multiple bottles of wine and a few cocktails before getting behind the helm of the luxury powerboat and speeding. After initially missing the turn into the port, the boat plowed into the unlit jetty and landed at a precarious angle wedged against the rocks upon which the wife injured her head.
Understanding How to React to a Boating Accident
Florida is famous for its beaches and waterways, so it's no wonder that there are more than 55,000 documented vessels with Florida owners. However, things don't always go the way we plan during a boating venture and therefore, it's important to understand the steps that should be taken following a boating accident.
Call 9-1-1. It is just as important to obtain emergency help offshore as it is when you're on land. Following any kind of boating accident, summon help and wait for authorities to arrive and assess the situation.
Take pictures and record video. Documenting the scene of the accident is very important in this kind of situation due to the nature of water and how quickly it can make essential evidence disappear.
Observe and record the contact information for any witnesses. Many people watch boats from the shoreline so there's a good chance that someone witnessed the accident if you're close enough to be visible when it occurs. Once you get to the shore, record the names and contact information of any witnesses.
Obtain medical help. If you feel like it's appropriate, allow the emergency medical personnel at the scene of the accident to treat you. Otherwise, ensure that you make alternate arrangements for a medical assessment and treatment as soon as possible.
Contact an experienced personal injury attorney.
If you or a loved one have been injured in a boating accident because of someone else's negligence, the good news is that you have legal options to help you obtain compensation for your injuries and what you have experienced. However, ensuring that you can preserve evidence is essential when bringing a Florida boating personal injury or death claim and time is of the essence. Anyone who is injured in a boating accident should therefore quickly obtain legal help to ensure he or she can later prove the responsible party is legally at fault and liable for the resulting damages. As the South Florida personal injury attorneys at Leifer & Ramirez, with offices in Boca Raton, Fort Lauderdale and West Palm Beach, we have helped many people understand their legal remedies following an unexpected boating accident and we offer the legal help and guidance that you need in this kind of situation. Contact us today to begin.
https://www.leiferlaw.com/beach-related-accidents-and-civil-liability/