What Does a Personal Injury Lawyer Do?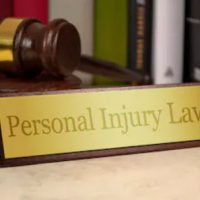 Whether you have been injured in a car accident or some other kind of unexpected personal injury, this kind of experience can be one of the worst of your entire life. Therefore, it is probably in your best interest to hold the person who caused the accident responsible for his or her actions. When the victim of an accident brings a personal injury action against the person that caused his or her injuries, a lawyer is usually retained for this process.
But what does that actually mean? And what does a personal injury lawyer actually do?
What is a Personal Injury Case?
A personal injury lawsuit is a type of civil legal action in which one party sues another for compensation that is usually recovered in the form of money. This can be used to help cover unexpected expenses such as emergency medical treatment, prescription medications, surgical interventions, therapeutic treatments and lost wages that can result from a personal injury.
The person suing is typically known as the "plaintiff" and the person being accused of causing the personal injuries in question is known as the "defendant". Examples of the basis for a personal injury case can include scenarios such as:
Car accidents
Slip and falls
Products liability
What Exactly Does a Personal Injury Lawyer Do?
Significantly, your attorney establishes a barrier between you and all of the people who would disrupt your peace of mind while you are trying to recover from your injuries. In your post-accident world, you likely have many new stressors that you are trying to figure out how to overcome. Your response attorney can help take away some of this stress as he or she focuses on protecting your legal rights. That way, you can focus on your medical treatment and progressing towards the best version of yourself.
A personal injury lawyer will examine the details of your case and determine the best way to resolve it in your favor. In most personal injury cases, this process will start with negotiations and end with a settlement that never goes to court. In fact, only four percent to five percent of the personal injury cases in the United States actually go to trial. And while your attorney acts as your advocate, you still play an active role in your claim and you will be part of every decision that could significantly affect your life.
Allow Yourself the Benefit of an Experienced Personal Injury Attorney.
As soon as you know that you have been hurt in an accident, you should see a doctor and then contact an experienced personal injury attorney for a free consultation. Whether you or a loved one have been injured in a car accident, motorcycle accident, are struggling with your insurance company, or have questions about your legal options, we can help. As the Boca Raton personal injury attorneys of Leifer & Ramirez, we have the experience and the resources to build a case that is designed to obtain maximum compensation. You can depend on us for the legal help that you need. Reach out to us today to begin.
https://www.leiferlaw.com/charging-up-your-knowledge-of-the-latest-risks-of-vaping-devices/