What Damages Are Available in Personal Injury Cases?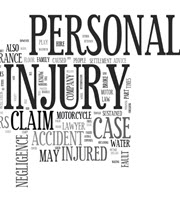 Being injured can be costly. Medical bills start piling up, you may have lost wages for taking time off of work, or maybe you have been permanently disabled and need to readjust your entire life. There are remedies available to you. If you have been injured, your focus should be healing and getting better, not stressing about the costs of injury. Florida law allows for different types of damages in personal injury cases: compensatory and punitive damages.
Compensatory Damages
Compensatory damages
are a "sum of money awarded in a civil action by a court to indemnify a person for the particular loss, detriment, or injury suffered as a result of the unlawful conduct of another." The purpose of compensatory damages are to make a plaintiff whole again after their injury. There are both monetary and non-monetary damages that are considered compensatory damages.
Monetary damages are compensation for amounts that are quantifiable. These are damages that have a financial value at the outset. Examples include:
Lost wages
Doctor's visits
Hospital bills
Prescription medication
Future medical treatments
Loss of future earning capacity
Property damages
Lost business revenue
Non-monetary damages are damages that are supposed to compensate a victim for damages that are not completely financial, but are still considered a loss. Examples of non-monetary damages are:
Pain and suffering
Loss of enjoyment in life
Loss of ability to pursue hobbies
Mental anguish
Loss of an important relationship, as a result of death from an injury
Punitive Damages
Punitive damages include "monetary compensation awarded to an injured party that goes beyond that which is necessary to compensate the individual for losses that is intended to punish the wrongdoer." Punitive damages are meant to be punishment to the wrongdoer and to deter other individuals from committing similar behavior in the future.
Florida law limits the award of punitive damages. Punitive damages are only allowed if they do not exceed three times the compensatory damages or $500,000, whichever is lower. The court is able to increase the amount of punitive damages. If a defendant has committed an act that is egregious and deliberately done for financial gain, the court is allowed to award up to $2 million in punitive damages, or four times the compensatory damages.
Limits on Damages
Florida is a pure comparative fault state. This means that an individual can only recover damages for the amount that they were not at fault for their own injury. For example, if a plaintiff is found to be 50% responsible for their injury, they can only recover 50% of the alleged damages.
If you or a loved one has been injured through the fault of another, and are considering bringing a personal injury action, time is of the essence. Contact an experienced personal injury attorney that can advocate for your rights and fight for adequate compensation. At Leifer & Ramirez, we have years of personal injury experience to represent you in your case so that you can focus on recovering.