The Importance Of Locating Witnesses After An Auto Accident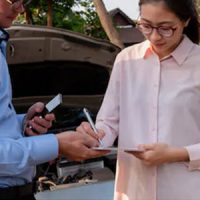 Many car accident lawsuits come down to a "he said/she said" situation. That is to say, each driver blames the other for causing the accident. But oftentimes, there were other people at or near the accident scene at the time, and they are often able to provide an impartial account of what actually happened.
Indeed, one thing we often advise clients to do following an accident–assuming you do not require emergency medical attention–is to take down the names and contact information for anyone who may have been a witness. Of course, many people leave the scene or are unwilling to cooperate. But if you do find one or more cooperative witnesses, their information may prove helpful in the event you need to file an insurance claim or personal injury lawsuit.
It is also always advisable to contact the police. Even if nobody committed a criminal offense, such as drunk driving, an officer will also attempt to identify any witnesses who were present. The officer must also prepare an official accident report, which can provide you with additional helpful information.
Tampa Judge Orders FHP To Release Unredacted 911 Calls to Defendants in Personal Injury Lawsuit
It may also be possible to obtain additional evidence from law enforcement in order to help identify potential witnesses. This came up in a recent order from a federal judge in Tampa. The case before the court, King v. Clark, involves a motor vehicle accident. The Florida Highway Patrol (FHP) conducted an investigation into the accident.
The defendants in this case asked the judge to issue an order compelling the FHP to turn over their "unredacted" dispatch notes and 911 audio recordings from their investigation. The defense argued this information would help them identify potential witnesses to the accident. As the judge explained, such information is considered "public records" subject to disclosure under Florida law.
Normally, however, disclosure requirements exempt the "names and other identifying information of 911 callers." That said, the law allows judges to make an exception when there is an "exceptional necessity" or "extraordinary circumstances." Here, the judge said the defense had established an "exceptional necessity" for the complete records, including the names of any 911 callers, given there was no other way to learn about this information.
Speak with a Florida Personal Injury Attorney Today
If you have been injured in an auto accident, or even if you are simply just overwhelmed by the event, you may not think to take the time to locate witnesses at the scene. As the case above illustrates, however, there are ways to identify and contact witnesses after the fact. But you will need help.
By working with an experienced  auto accident lawyer, you can have a team of trained experts working on your behalf to locate anyone who might have information helpful to your case. So if you need legal advice or representation following an accident, contact Leifer & Ramirez today to schedule a consultation.
Source:
scholar.google.com/scholar_case?case=7769757839479446115