The Dangers of Road Rage For Motorcyclists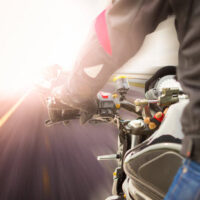 Road rage incidents are always an intimidating prospect because they can escalate so quickly and end in unpredictable results. However, this already-frightening possibility is further heightened when the victim of the road rage is riding a motorcycle.
The South Florida Sun Sentinel recently reported that a Pembroke Pines motorcyclist has been shot dead in an apparent road rage encounter. Detectives have not yet described what may have prompted the road rage but the 29-year-old driver of a Honda Civic is pleading self-defense to the murder charges he is reportedly facing in connection with the fatal altercation. Court documents reflect that witnesses stated the Honda driver used his vehicle to pin the 40-year-old victim's motorcycle against a curb before he got out of the car and shot the motorcyclist several times.
How Dangerous Are the Roads For Motorcyclists?
One of the most appealing aspects of motorcycles for those who love riding them also adds to the potential for them to be dangerous – the open air nature of these motor vehicles. Motorcyclists have very little protection surrounding them. Unlike the driver of a car who is protected by layers of metal, the same lack of material that allows motorcyclists to feel the breeze from every direction also means that motorcyclists have much less protection from anything they happen to encounter on the road. Unfortunately, as is outlined in the tragic example above, this includes motorists who become enraged.
In lieu of all of this, it is likely unsurprising that well over five thousand motorcyclists lost their lives on America's roads in 2017 according to the National Highway Traffic Safety Administration.
What Are Examples of Motorcycle Road Rage Incidents?
Road rage incidents involving motorcyclists can happen when the driver of a car becomes aggressive in ways such as:
Failing to turn on their turn signal before switching lanes.
Tailgating too closely behind the motorcycle.
Becoming enraged after a motorcyclist passes his or her vehicle.
Running a motorcyclist off the road or into another vehicle.
Regardless of the type of road rage incident, proceed with caution if you are involved in one. It can be extremely unsafe to approach or chase a driver who has acted erratically during a road rage incident. Above all, keep in mind that you are on a motorcycle and the driver has a huge advantage over you – literally – in the form of his or her 3,000 pound vehicle, and that is one weapon you don't want to be up against on a motorcycle.
Have You Been Injured While Riding a Motorcycle Because of Someone Else's Road Rage?
Motorcyclists are some of the most vulnerable parties on the road and tragic injuries often follow these kinds of road collisions. However, any motorcyclist who is the victim of road rage in a motor vehicle accident should remember that he or she has rights under the law. No matter how tragic the resulting injuries are, there is no need for a second tragedy to occur because you don't have the legal help that you need. The South Florida motorcycle accident attorneys at Leifer & Ramirez have helped many injured motorcyclists in similar circumstances and we will provide the legal help you need. Contact us today to begin.
Resource:
sun-sentinel.com/local/broward/fort-lauderdale/fl-ne-lauderdale-road-rage-homicide-20190520-276b7dfkojh2faaspjrog4dxre-story.html
https://www.leiferlaw.com/what-to-know-if-youve-been-in-a-motorcycle-accident-in-florida/