The Dangers of Roads For Child Pedestrians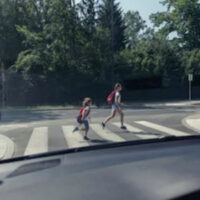 Wink News has reported that a nine-year-old Sarasota boy who was biking to school died after being struck by a truck on a recent weekday morning. According to a Florida Highway Patrol press release, the nine-year-old child pedestrian was biking westbound on a south sidewalk when a 25-year-old driver of a Chevrolet Silverado struck the little boy while approaching a stop sign. Authorities are still investigating exactly how the accident occurred.
How Dangerous Can Roads Be For Child Pedestrians?
Sadly, statistics demonstrate that our youngest pedestrians also face some of the greatest potential risks. According to the Center for Disease Control, one in every five children under the age of fifteen who were killed in traffic crashes in 2016 were pedestrians. In 2014, 40,000 children were nonfatally injured as pedestrians. The next year, almost 500 pedestrian children died as the result of injuries they incurred.
Additionally, regardless of how mature you may think your young child is, you may want to rethink the concept of allowing him or her to venture to school alone. Importantly, kids cannot judge speed and distance of approaching vehicles until age 10. However, many parents allow their kids to begin making the journey to school at younger ages, especially when the school is close by and the child has a cell phone. But despite whatever perceived safety measures are in place, statistics and the tragic incident that occurred in Sarasota both spotlight the fact that these measures are not enough to keep every child pedestrian safe.
How Can I Help Make Roads Safer For Child Pedestrians? 
Unfortunately, your child can face a very real risk of injury as a pedestrian and this risk can be heightened whenever he or she ventures out alone. Therefore, prior to the time when your child heads off to school alone, or even with friends, you should have honest conversations. These conversations should address topics such as:
Walking with a young child to and from school

Teaching your child to recognize and obey traffic signals and pavement markings

Practicing whatever the safest route between home and school is with your child repeatedly

Talking to him or her about why routes through shortcuts such as wooded areas, parking lots and alleys should be avoided despite popularity

Always looking both ways before attempting to cross the street

Paying attention to vehicles at intersections and crosswalks

Only attempting to cross at crosswalks

Switching direction or crossing the street if they think someone is following them or if they feel unsafe

Telling an authority figure such as a teacher or counselor if a strange person attempts to converse
Has Your Child Pedestrian Been Injured Because of a Driver's Negligence?
Regardless of the circumstances, having to face the fact that your child has been injured is one of the hardest things most people in this situation will ever deal with. And while most people cannot relate to your experience when one of the youngest members of your family has been injured, understand that you do not have to deal with this situation on your own. You should allow someone else to fight for you while you focus on recovering from the traumatic experience that you and your family have been through. The experienced South Florida pedestrian accident attorneys at Leifer & Ramirez have helped many in similar circumstances for well over two decades and we will provide the legal help you need. Contact us today to begin.
Resource:
winknews.com/2019/05/20/9-year-old-boy-biking-to-school-dies-after-being-hit-by-a-truck/