Teenager Dead, 10 Others Injured In Grizzly Boat Crash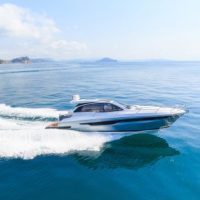 What started out as a fun day with 13 teenagers on a boat in the Florida Keys ended with one in a morgue and several fighting for their lives. The 17-year-old girl, named Lucy Fernendez, was enjoying the nice Florida weather with 13 other high schoolers on a 29-foot motor boat when they accidentally hit a channel marker in Biscayne Bay near Boca Chita. Police say that they have no reason to believe that alcohol was involved in the accident. Upon impact with the channel market, the boat flipped and everyone on board was ejected into the bay. Police say that many of those ejected were critically injured, and had to be removed from the water by Miami-Dade Fire Rescue when they arrived at the scene. In total, eleven of the thirteen passengers on board were injured. Four of those injured, including Fernendez, were determined to have traumatic injuries, and needed to be transported to the hospital by helicopter. Fernendez subsequently died from her injuries at the hospital. As of yet, no further fatalities have been reported. There have been a number of vigils held for those injured in the accident, as they were all students at Catholic schools in the area. Lucy's loss has been very hard on the community. The Florida Fish and Wildlife Conservation Commission determined that the accident occurred because the boat hit a channel marker, causing it to flip and eject all the passengers aboard, but did not say what caused the boat to hit the channel marker, aside from noting that alcohol was not likely a factor. The investigation into this tragic incident remains ongoing as the community mourns and the rest of those injured focus on healing.
Suing for Florida Boating Accidents
Just as when you are driving, those boating have a duty to operate their boats with reasonable care. If they breach this duty, such as by speeding or violating regulations or laws, they can be held accountable for any harm that occurs as a result. This is true even if you were a passenger on the boat at the time of the crash. For instance, if you were a passenger on a boat and the person operating the boat drove recklessly such that an accident occurred, you could hold them legally and financially liable for any harm that you suffered as a result of the accident. This would allow you to recover all costs incurred as a result of your injuries, including all medical expenses. You would simply have to establish that the driver was being negligent at the time of the accident, and demonstrate that you had suffered physical and financial injuries as a result.
Schedule a Consultation with Leifer & Ramirez
If you have been injured in a Florida boating accident, you do not have to navigate the recovery process on your own. The experienced personal injury attorneys at Leifer & Ramirez will fight to get you the compensation and representation that you deserve. Contact us today to schedule a consultation.  We serve clients in Fort Lauderdale, West Palm Beach, Delray Beach, Boca Raton, Boynton Beach, and communities throughout Florida.
Source:
washingtonpost.com/nation/2022/09/06/florida-boat-crash-teenager-killed/