Is There A Time Limit On Bringing A Personal Injury Claim In Florida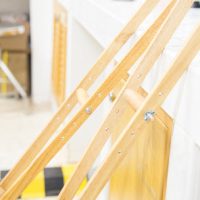 If you have been injured in an accident caused by someone else's negligence, you may be feeling overwhelmed just trying to cope and deal with the day-to-day requirements of your new reality. Hospital bills, being unable to work, pain, and doctor's appointments can all make it feel like you have been sucked into some out-of-control nightmare. It is completely understandable that the last thing on your mind is the law. However, it's important to clear enough space in your mind to consider bringing a personal injury lawsuit.
What is a Personal Injury Claim?
Everyone has a duty of reasonable care towards others. When they breach this duty, it is known as negligence. Negligence occurs when a driver speeds or drives drunk and hits another driver, or when a convenience store leaves a spilled soda on the floor without attending to it, causing someone to slip and fall. When someone is injured due to this negligence, the negligent party becomes responsible for all costs that occur as a result. In order to collect these costs and all other damages that they are entitled to, the injured party must bring a personal injury claim against the negligent party. A Florida personal injury attorney is able to help you do this. It should be noted that while a personal injury claim can result in a trial, it is extremely common that these claims are settled before ever going to court. For many people, bringing a personal injury claim is the only way that they are able to recover from the accident and get their life back on track. This makes sense, as personal injury lawsuits exist in order to make injured parties financially whole. This is accomplished by providing financial compensation to the injured party for all costs incurred as a result of the injury. These costs include medical bills, treatment costs, transportation to and from medical appointments, and lost wages if you were unable to work due to your injury. Victims are also entitled to compensation for pain and suffering, which is intended to provide compensation for the physical and emotional trauma caused by the accident. These damages are generally calculated based on the total amount of economic damages and the permanence or severity of the injury.
Time Limit on Bringing Personal Injury Claims
In Florida, there is a time limit on bringing personal injury claims. This time limit is known as the statute of limitations. In Florida, you have four years from the date of the accident to bring a personal injury claim. While this is a very generous statute of limitations, especially compared to other states, the sooner you bring your personal injury claim, the easier it will be to litigate and the more likely you are to secure a successful outcome. This is because the longer you wait, the harder it is to obtain necessary evidence. Additionally, necessary witnesses may not still be in the area and their recollections of the event may not be clear anymore. Discrepancies between their current memory and statements made when the accident occurred may make it hard to establish your version of events. For this reason, you should always bring a claim sooner rather than later.
Contact the Leifer & Ramirez Today
If you have been injured due to another party's negligence, the time to take action is now. Contact the Boca Raton personal injury lawyers at the Leifer & Ramirez today and find out how much your claim could be worth.
Source:
leg.state.fl.us/Statutes/index.cfm?App_mode=Display_Statute&URL=0000-0099/0095/Sections/0095.11.html