Helping the Children You Love Stay Safe in Cars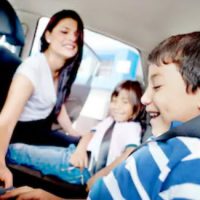 According to an article recently published by the South Florida Sun Sentinel, a 14-year-old child was recently ejected from a car after a rollover accident on Interstate 95 north. The Sunday evening accident occurred near the Hillsboro Boulevard exit and resulted in the young teenager being taken by helicopter to Broward Health Medical Center in Fort Lauderdale with back injuries that weren't considered life-threatening. An adult man and woman in the car were also taken to the hospital with injuries.
No one wants the tragic consequences that can result when a child or teenager is injured in a car accident. Whether you are a parent, caregiver, or even just someone who knows a child, everyone should understand what to do if a child or teen you care about happens to become involved in a car accident.
How Common Are Accidents Involving Children?
Unfortunately, many children and teenagers are killed or seriously injured in accidents on an annual basis here in the United States. In 2017 alone, nearly 116,000 children 12 years old and younger were injured and almost 700 were killed in car accidents according to statistics published by the Centers for Disease Control and Prevention. Sadly, despite the fact that many of these deaths can be prevented, injuries from motor vehicle accidents are consistently a leading cause of death among children in the United States.
Safety Tips for Keeping Kids Safe on the Road

While every accident can't be prevented, the good news is that as a parent or caregiver, there are a number of things you can do to help keep your children of all ages safer on the road and help everyone you love return home safely.
For younger children you can ensure that you:

Make sure your child has an age-appropriate car seat
Replace your child's car seat after an accident, even if minor
Come up with an advanced plan for entertainment, especially before a long drive or road trip
What if my child is already driving? In that case, ensure that you talk to your teenager about:

Not engaging in distracted driving
Avoiding drunk drivers and why he or she should never drink and drive
The importance of limiting the number of passengers especially when he or she is first beginning to drive alone
What Legal Options Do We Have?

In the unfortunate event that you or your child is an accident victim of someone else's negligent behavior, you will need legal support you can depend on. As the victim of this type of accident, you may be entitled to compensation for medical bills, lost wages and other damages. However, pursuing a personal injury claim on your own is not recommended because it often takes the help of an experienced personal injury attorney to successfully recover the way you deserve to. As the Florida attorneys at Leifer & Ramirez with offices in Boca Raton, Fort Lauderdale and West Palm Beach, we have extensive experience helping accident victims of all ages who have been injured by negligent and reckless drivers and we offer the legal help you need. Contact us today.
Resource:
sun-sentinel.com/local/broward/deerfield-beach/fl-ne-95-deerfield-accident-minor-ejected-20200120-yi7lr7ijejb4zn4dui42h2dpue-story.html
https://www.leiferlaw.com/what-are-pain-and-suffering-injury-damages-in-a-florida-personal-injury-case/