Have You Been Injured In A Rideshare Accident?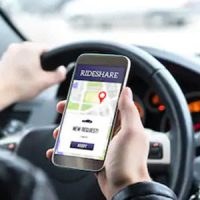 Rideshare apps like Uber and Lyft have become an increasingly popular way of getting around, especially during the summer time when more partying and social activities are going on. However, it's important to remember that while calling an Uber or Lyft is often a responsible choice, it is not necessarily without risk. Rideshare drivers do not have to undergo any special training in order to be hired, and are often unfamiliar with the areas in which they are driving. Some drivers may also rush through traffic signals and speed in order to complete rides faster and cram more customers in. The result is that tens of thousands of people are injured in rideshare accidents each year. Interestingly, those injured are not just the passengers. Pedestrians, rideshare drivers, and drivers and passengers in other vehicles can all be injured in rideshare accidents. These accidents can be particularly complicated to try and navigate as well, due to the multiple parties and insurance parties that are involved. This can make it difficult for injured parties to know where to turn. For this reason, a lawyer is critical in these kinds of cases.
How a Lawyer Can Help After a Rideshare Accident
In the aftermath of a rideshare accident you will likely begin receiving calls from the liable party's insurance company. They may also create a false sense of urgency, such as by threatening to close out your claim if you do not provide them with certain information. These intimidation tactics are intentional, and can bully you into accepting a lowball settlement offer before you have had the chance to be evaluated by a doctor or receive counsel from a lawyer. A lawyer will take over communications with the insurance claims adjuster, and will keep you from falling prey to common pitfalls. Your lawyer will also help you in determining what a fair settlement offer would actually be. This can be very hard for people to figure out since settlement offers are generally kept confidential, so it can be hard to know what is reasonable or how comparable cases have settled. This is where a lawyer's experience becomes critical. Additionally, your lawyer will be able to determine all liable parties, and can bring a personal injury lawsuit against them if the insurance company does not provide an acceptable settlement offer. This is helpful because in these kinds of cases there is often more than one liable party. For instance, Uber may be liable as well as the driver. In some cases, the manufacturer of the vehicle or a faulty component may be liable. In others, a city or state may have contributed to causing the accident by having a poorly marked, missing, or malfunctioning traffic signal. A lawyer can determine every party who contributed to causing your accident and hold them accountable for your harm. This is especially critical if your damages exceed the policy limits of the insured party.
Contact Leifer & Ramirez in Boca Raton, Florida
If you have been injured in a rideshare accident, and are struggling to get the compensation and support that you are entitled to, contact the Boca Raton auto accident lawyers at Leifer & Ramirez to schedule a consultation and find out how we can help.