Florida Rear-End Accident Injuries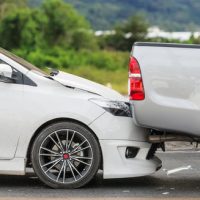 Have you been involved in a rear-end accident? Some people may assume that rear-end accidents are not all that serious, however, they certainly can be depending upon the speed at which the vehicle behind you collides with yours. Rear-end accidents are frustrating because the driver who is impacted often cannot see the collision coming or do anything to prevent it. This can make the driver feel powerless, especially if they suffer serious injuries as a result of the other driver's negligence. If you have been injured in a Boca Raton rear-end accident, you may be wondering how you can take your power back and get the financial resources that you need to properly recover from the injuries caused by this accident. In this article, we'll tell you how.
Common Rear-End Accident Injuries
Whiplash
Traumatic brain injuries, including concussions, hemorrhage, and swelling of the brain
Trauma to cervical spine
Spinal cord injuries
Herniated disks
Bulging disks
Collar bone injuries
Bone fractures and broken bones
Injuries to face
Soft tissue injuries
Muscle sprains and strains
Headaches and migraines
Bringing a Personal Injury Lawsuit for a Rear-End Accident
If you have suffered an injury in a rear-end accident that was not your fault, the best way to recover the financial damages it has caused you is by bringing a personal injury lawsuit. A Florida personal injury attorney can review the facts and circumstances of your claim and help you determine the best path to move forward. You will have to show that you have suffered physical and financial injuries in order to recover damages. This can be done by providing medical documentation of your injury. You can substantiate your financial damages by providing medical bills and evidence that you had to miss work or reduce your earning potential as a result of the harm that you suffered. You will also have to show that the other party was negligent in causing the accident. This can easily be established if the other party was breaking the law, such as by speeding or driving while intoxicated. It is very rare that a rear-end accident would occur in the absence of any negligence, however, if you are unsure whether the other driver was negligent or how to establish it, it is a good idea to consult with an attorney who can familiarize themselves with the case. If your claim is successful, you will be able to recover all costs incurred and lost as a result of the accident, in addition to compensation for pain and suffering. The amount of pain and suffering damages is determined based on your total amount of economic damages as well as how severe and long-lasting your injuries are and how they will affect your daily life moving forward.
Contact Leifer & Ramirez in Florida
You do not have to bear the financial burden of someone else's mistake. Contact the experienced personal injury attorneys at Leifer & Ramirez today to schedule a consultation and find out how we can help you get the largest settlement that you are entitled to. We serve clients in Fort Lauderdale, West Palm Beach, Delray Beach, Boca Raton, Boynton Beach, and communities throughout Florida.