3 Injured In Florida Multi-Vehicle Crash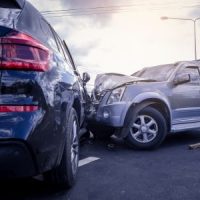 Mondays are hard enough without the threat of being involved in a multi-vehicle collision. Florida's highways can seem daunting, and for good reason. Our state has some of the busiest highways in the nation, and with the massive amount of traffic and commercial trucks traveling on these roads, the risk of accidents remains high. Three truly unfortunate drivers started their week off on the wrong foot when they were injured in a multi-vehicle collision on I-4 in Seminole County. One of the drivers was transferred to the hospital in critical condition, while the other two individuals were treated for injuries that were classified as being non-life-threatening. The Fire Department and State Troopers disagree on the number of vehicles involved, with the Fire Department stating that four vehicles were involved and the police stating that only three vehicles were involved. Neither the police nor the fire department has released any further statements on the cause of the accident or how the collision occurred. They also have not commented on whether negligence was involved in causing the accident and whether charges will be brought against any of the drivers or parties involved.
Do I Need a Lawyer for a Florida Multi-Vehicle Collision?
Multi-vehicle collisions can be especially difficult to navigate. With so many drivers and insurance companies involved, the determination of liability can take a while and recovery for damages can be a somewhat daunting process. This is why it's important to have an experienced Florida personal injury attorney representing you and ensuring that you get the maximum recovery that you are entitled to. Whereas some car accidents may be fairly straightforward and possible for you to navigate on your own, you do not want to take that chance when it comes to a multi-vehicle accident. This is particularly true if you suffered serious or extensive injuries as a result of the collision. The higher the stakes are, the more important it is to have a lawyer on your side. A lawyer will help you to expedite the process of the determination of liability and ensure that you are not assigned liability that should be assigned to another party. Your lawyer will also handle all negotiations on your behalf with the liable party's insurance company so that you will not fall victim to common pitfalls, such as agreeing to a settlement before you know the total cost of your recovery. They will also bring a lawsuit if necessary to get you the settlement that you deserve. Your settlement will include compensation for all costs incurred as a result of your injury, as well as for pain and suffering. In order to learn more about the value of your claim, it is a good idea to schedule a consultation with a Florida personal injury attorney.
Contact Leifer & Ramirez Today
If you have been involved in a Florida multi-vehicle collision, you need an experienced legal representative on your side. Contact Leifer & Ramirez today to learn about your options and find out how much your Florida personal injury claim could be worth. Schedule a consultation with our car accident lawyers to learn more. We serve clients in Fort Lauderdale, West Palm Beach, Delray Beach, Boca Raton, Boynton Beach, and communities throughout Florida.
Source:
clickorlando.com/traffic/2022/09/24/3-injured-in-4-vehicle-crash-on-i-4-in-seminole-county-officials-say/